Works near, on or above our assets must meet our technical requirements. Structures built near our assets must meet our foundation criteria and standard clearance requirements for overland flow paths. This ensures the proposed structures and existing pipe networks are safe.
We generally don't allow structures to be built over our assets. However, we may approve some structures if:
minimum clearance conditions are met

the structure is non-permanent and can be fully removed
Note: eaves and overhangs are not permitted.
Structures we allow
We allow you to build include:
removable carports (minimum of three open sides with flat roof)

concrete driveways and pavers

wooden fences parallel to, or crossing our assets
We don't allow:
habitable structures (for example buildings, extensions)

above or in-ground swimming pools

permanent structures

brick fences crossing any of our assets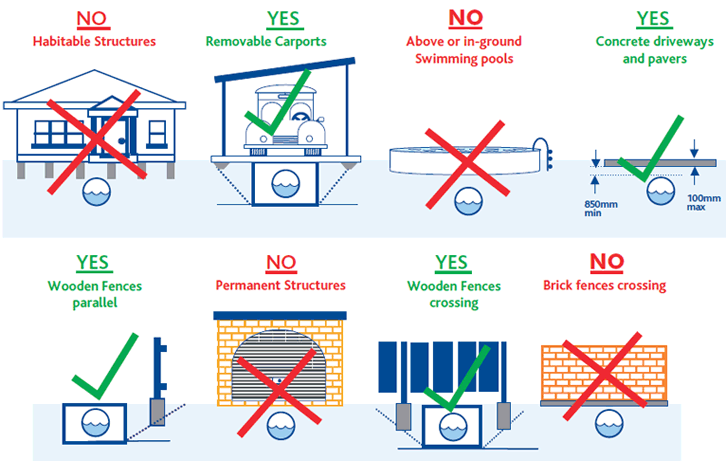 Residential properties
If you plan to build in a residential area, any preliminary plans submitted as part of your application must meet the following technical requirements.
Clearance conditions
private underground services cannot be laid within an easement, though we may allow services that cross the asset

structures next to drains must have a minimum horizontal clearance of five metres

buildings (including footings and eaves) must be outside an easement or at least five metres horizontally clear of the outside edge of the assets – whichever is greater

utility services next to access pits must have a horizontal clearance of two metres

small sheds must have less than four square metres (4m²) of floor area within the easement to be considered, depending on overland flow requirements
Other conditions
assets must remain covered by soil at least 850mm deep

hardstand areas can use pavers set on a sand and crushed rock base

domestic concrete driveways must be no more than 100mm thick

structures must not obstruct overland flows, otherwise we will not approve them

structures must not place additional loads on the asset

structures must have a footing depth that adequately satisfies the angle of repose relative to the asset
Angle of repose specifications
The following diagram shows how to calculate the minimum requirements for footing depth and footing distance.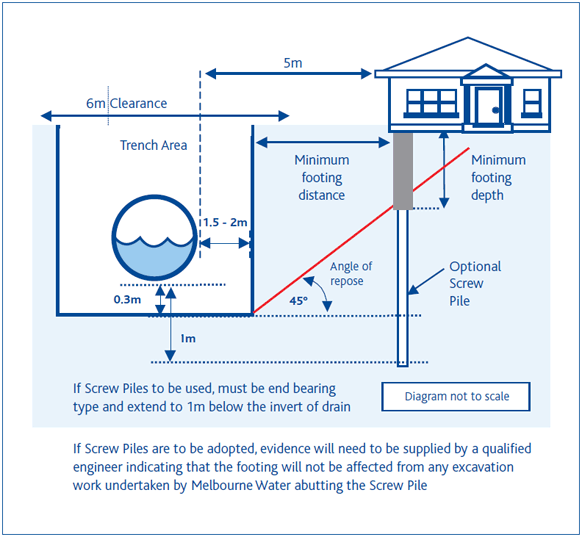 Industrial and commercial properties
If you're building on an industrial or commercial property, we won't approve any building or structure built within:
any easement

five metres either side of one of our assets
Utility installations
There are separate conditions for utility cables or pipe installations near or crossing our assets and easements. Further information:
Utility installation guidelines
Apply Online
Apply to work or build near our assets or easements
Contact us
If you need any help to complete this task, contact us on 131 722.