We're taking action on climate change to protect the natural resources that sustain us – so Melbourne remains a great place to live: today, tomorrow and for generations to come.
A safe, clean and healthy environment is essential to our way of life: from the water we drink to the air we breathe. But climate change has begun to affect our water supply, sewerage and drainage systems.
The water industry is the single largest contributor to the state government's total greenhouse emissions. And while we're already adapting our operations for a changing climate, we know there's more to be done.
That's why at Melbourne Water we pledge to halve our emissions by 2025 and reduce them to net zero by 2030. 
We also commit to sourcing 100% of our electricity from renewables by 2025.
Our pledge aligns with the water sector's emissions reduction obligations (359.41 KB, PDF), as well as our support for the United Nation's Sustainable Development Goals – specifically Goal 13, Climate Action. It's another way we're working towards a sustainable future for the communities we serve.
How we're taking action
It takes a lot of energy to get water to your tap and remove and treat your sewage. This results in two main types of greenhouse gas emissions, that we address differently:
Direct (Scope 1) – mostly released through sewage treatment, such as methane and nitrous oxide.  
Indirect (Scope 2) – generated from electricity derived from fossil fuels.
Net zero doesn't mean we won't be producing any emissions. It means we will remove as much greenhouse gas from the atmosphere as we produce. To make up for emissions that can't be reduced, we'll invest in carbon offsets.
Addressing direct emissions
Sewage transfer and treatment is an energy-intensive process. It's responsible for about 85% of our total emissions – including direct emissions, which we're working to reduce at the source.
Investigating and quantifying direct emissions
Our Real Greenhouse Gas Emission Measurement and Reporting Program developed an unprecedented framework in Australia for monitoring and quantifying direct emissions at sewage treatment plants.
We partnered with leading universities and researchers to create new tools and methods that provide a more complete view of these emissions. So, we – and other water organisations – can develop stronger abatement strategies, bringing us all closer to net zero.
In 2022 this project won the Australian Water Association's R&D Excellence Award, and was then entered into the running for the national prize.
Increasing bioenergy
Both our sewage treatment plants already capture sewage biogases, and turn these into bioenergy – a type of renewable electricity. This reduces our emissions while turning a waste product into a useful resource.
In late 2022, we finished building a second power station at our Western Treatment Plant. Now we're able to transform most biogases captured at our anaerobic lagoons into electricity. This meets 80% of the plant's annual energy needs, on average, and any excess is exported to the electricity grid to offset usage at our other sites.
Biogas is captured under large covers, which are placed over our sewage treatment lagoons.
Investigating new sewage treatment processes
While bioenergy production is an excellent way to leverage greenhouse gases for energy, we're exploring other methods that avoid the need for this altogether.
We're explore alternatives to one of our major sewage treatment processes: sludge pan drying. This will give us the opportunity to reduce our emissions further, at the source.
Northern sludge drying pans, Eastern Treatment Plant.
Addressing indirect emissions
We're actively reducing our Scope 2 emissions by increasing our use of renewable energy. By 2025, 100% of our electricity will be from renewable sources.
Leveraging the sun at our treatment plants
In 2022 we installed our first small-scale solar array at the Somerton Water Pump Station. Since then, we've undertaken several larger installations, and are now investigating even more opportunities to use solar energy.
Our new Winneke Solar Farm (completed 2023) helps power the Winneke Water Treatment plant and nearby pumping stations. It can provide up to 100% of the plant's daily energy needs – and any excess is fed back to electricity grid to offset usage at our other sites.
We've also nearly completed our new Eastern Treatment Plant Solar Farm. Once operational, the solar farm will produce 20% of the plant's electricity needs, increasing on-site generation from renewable sources to over 50%.
Solar panels at the Winneke Water Treatment Plant.
Transitioning to an electric vehicle fleet
We've committed to a fully electric vehicle (EV) passenger fleet by 2030, incrementally replacing internal combustion engine vehicles with comparable EVs as they reach their end of life.
Although there are currently no comparable EVs in Australia for our light commercial vehicle fleet (typically utes and four-wheel drives), when the market expands, we'll look to replace them as well.
Other initiatives
We're already operating a 'six' star Green Star-rated office in Melbourne's Docklands, and we're continually looking to adopt best practices when it comes to creating new buildings.
And while it doesn't officially count towards our emissions reduction targets, our suite of hydroelectric power stations throughout our water supply network are harnessing a natural, sustainable and reliable energy source to produce renewable electricity.
Hydroelectricity power station at Thomson Reservoir.
Working together
To overcome challenges of this scale, we know we must work closely with other water organisations – both here in Australia and overseas. That's why we've formed an international alliance with water companies Aarhus Vand (Denmark) and Severn Trent (UK).  
Together, we have a vision to reduce carbon emissions by 1 million tonnes. By joining forces, we'll co-create innovations and technologies to make wastewater treatment greener. We will begin to establish new international standards for measuring and reporting emissions, as the industry looks towards a carbon neutral future – better for Melbourne and our planet.
You may also like...
Read about Melbourne's water supply and water storage levels, which face ongoing challenges from climate change and population growth.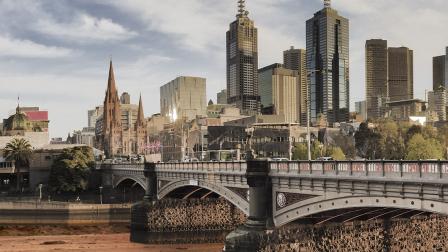 This report outlines Melbourne Water's unwavering commitment to advancing sustainability through the United Nations Sustainable Development Goals (SDGs).