The historic Western Treatment Plant in Werribee is a world leader in environmentally-friendly sewage treatment, and one of Victoria's most unlikely hidden treasures.
Roughly the size of Phillip Island, the vast site is home to more than just sewage treatment facilities – doubling as a working farm and internationally-recognised bird habitat. Here, agriculture and biodiversity meet resource recovery, education and ecotourism, supporting Melbourne's renowned liveability.
Explore the plant for yourself
Sustainable sewage treatment
The Western Treatment Plant receives about half of Melbourne's sewage, providing an essential service that protects public health as well as our waterways and Port Phillip Bay.
The plant has evolved as Melbourne's population has grown, now treating more than 182,500 million litres of sewage each year using a low-cost, low-energy sewage treatment process.
Resource recovery
The plant is a vital part of the circular economy, turning waste into valuable resources that can be reused. These include:
biogas (methane), which generates enough renewable energy to power the plant
recycled water, used to irrigate the plant's farmland and wetlands, and the nearby food growing district
biosolids, soil-like material rich in nutrients.
Melbourne's continued growth means sewage flows could almost double by 2050. Together with innovative initiatives – like 'co-digesting' business food waste to reduce landfill and harness more biogas – this creates an opportunity for the Western Treatment Plant to make an even greater contribution to the circular economy.
Agriculture
Agriculture has always been an important part of the plant, given its natural synergies with our treatment processes and land management.
Farmland is irrigated with recycled water to provide pasture and livestock fodder, and also creates a 'green break' between urban development and sites of biodiversity significance.
Environmental improvements
We're continuously improving the way we operate our treatment plants to achieve our environmental goals.
Our world-leading research program is also investigating less energy-intensive treatment processes and more renewable energy opportunities, like solar and hydrogen, supporting our goal to achieve net zero emissions by 2030.
Renowned bird habitat
The Western Treatment Plant's variety of natural habitats provide a refuge for wildlife, including some of the world's rarest bird and frog species – such as the critically-endangered orange-bellied parrot and growling grass frog.
In 1983, the site was declared an internationally-significant wetland for waterfowl under the Ramsar Convention. More than 300 bird species have been recorded at the plant, attracted to the water and food in its permanent wetlands, making it one of Australia's best places for birdwatching.
Rich cultural heritage
The Wadawurrung People lived on the land for thousands of years, making it a place of spiritual importance. The plant was also key to Melbourne's early development – established in the early 1890s to combat the spread of disease, as open sewers emptied into rivers and bays.
Originally known as the Werribee Sewage Farm, the site included the township of Cocoroc (meaning 'frog'), which housed sewage farm workers until the 1970s. Parts of it are still standing today, and now house our operations, administration and education facilities.
The Western Treatment Plant was added to the Victorian Heritage Register in 2021, recognising its historical, archaeological and technical significance.
Learn more
For an overview of the plant, watch the following video or download our Western Treatment Plant Brochure (1.32 MB, PDF).
Be the first to know about new projects, ways to visit and opportunities to help shape the future of the site: follow our Western Treatment Plant Online Community Hub .
Reporting odours
To report an odour you believe is coming from one of our sites, call us on 131 722 when you smell it so we can investigate in a timely way. Please do not submit odour reports online.
You may also like...
Get the lowdown on Melbourne's sewerage system, how we look after it and what you can do to help.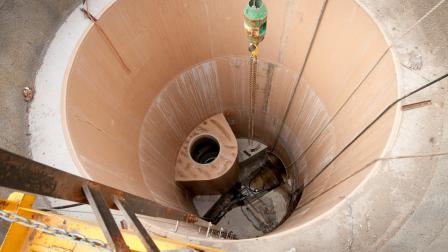 Follow the history of Melbourne's sewerage, from open sewers and thunderboxes to sustainable resource management and recovery.
This ambitious 50-year strategy sets the direction for wastewater management in Melbourne for future generations.