We are working on a more holistic approach to delivering Melbourne's urban water services. This includes making use of alternative water sources – like recycled water and stormwater – to reduce pressure on our drinking water supplies while improving the liveability of our communities.

Why we need a different approach
Melbourne's water industry has provided safe and reliable water services for over 125 years. However, we need to adopt a different way of thinking to respond to the opportunities and challenges facing us. These include:
population growth
climate change and variability
heightened community expectations on service, liveability and affordability
improving technology and science
The Victorian water industry has recognised we need a more integrated approach to delivering water services, in order to create more sustainable and liveable communities. This is known as integrated water management.
Why integrated water management?
Integrated water management brings together all facets of the water cycle to maximise social, environmental and economic outcomes. By considering the whole water cycle when planning and delivering services, we can:
collaborate on project design and coordinate actions
share knowledge and expertise
take advantage of links between different elements and develop solutions that have broader benefits over a long period of time
build more water sensitive and resilient communities.
This wouldn't be possible if we managed each system in isolation.
These benefits often extend beyond the solution to the initial problem. They can include:
environment – leaving more water for healthy river flows and reducing stormwater pollution
liveability – creating green open spaces, reducing the heat island effect and minimising flooding
economic – supporting industry and agriculture
affordability – reducing costs over the long run
long-term resilience – diversifying our sources of water so we can withstand future shocks like droughts and floods.
community wellbeing – providing more green open space, and access to healthier, cleaner waterways.
What a liveable city looks like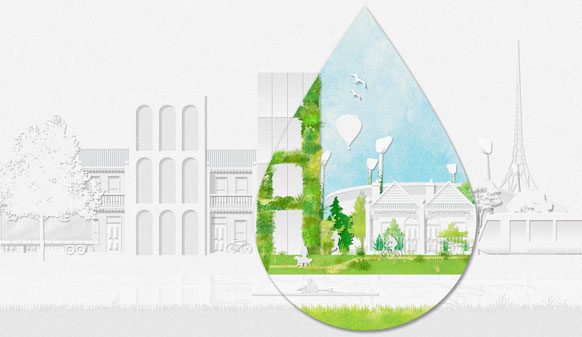 Proactively investing in alternative water and water efficiency initiatives will see substantial change over the next 50 years. We aim for Melbourne to remain one of the world's most liveable cities in 2060 – healthy, sustainable and prosperous through the availability of tailored water products.
Specifically, we aim to see:
high-quality drinking water from pristine catchments continues to be enjoyed by Melburnians for purposes like drinking, cooking and showering
fit-for-purpose water is applied sensibly to uses such as watering gardens, flushing toilets and washing clothes
parks, gardens and sports fields throughout Melbourne help cool our city and contribute to health and wellbeing
healthy waterways link communities together and connect them with the natural environment
affordable and reliable water services support Melbourne's economic prosperity, with residents and businesses confident that the right water services will be available when needed at a reasonable price
You may also like...
Learn how our work enhances Melbourne's liveability: making life better, healthier, safer, more enjoyable and enriching for everyone.