The Wurundjeri people originally inhabited the area surrounding the Yarra River and Port Phillip Bay, that is now Melbourne.
These indigenous Australians had no need for complicated water supply systems. Instead, they relied on local rivers and creeks or dug shallow wells to tap supplies of underground water.
The first European settlers who arrived in Melbourne in 1803 also drew water from local creeks. However as their settlements grew, demand for a reliable water supply system began to grow.
Historical water supply map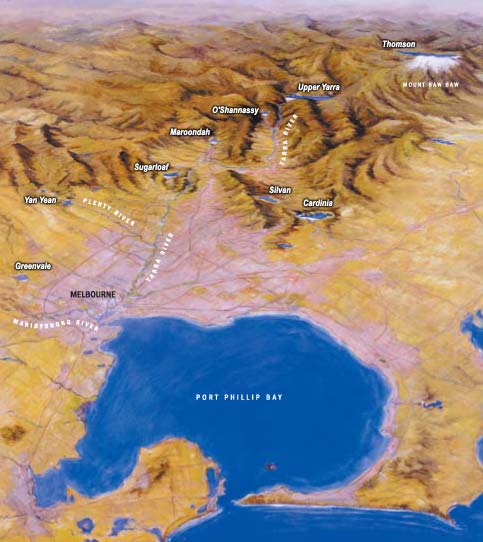 Timeline of Melbourne's water supply system
Year/era
Event

​1803

The first attempt at settlement of the Port Phillip region was on the Mornington Peninsula when Colonel David Collins established a camp at Sullivan's Bay, near Sorrento. The only source of water for almost 400 convicts, marines and free settlers was six wooden barrels sunk in the sand to tap groundwater.

1835​

Although settlement of the Port Phillip area had gradually grown after Colonel Collins arrived in Sorrento in 1803, it was not until 1835 that John Batman officially claimed the establishment of Melbourne.​

1840​

5 years after its official beginning, Melbourne's population had already reached 7,000. Water pumps were installed on the northern bank of the Yarra River. Men with water carts sold water, door to door, for three shillings a barrel, equal to about 30 cents for 550 litres.​

1850s​

Due to the Victorian gold rush of the 1850s, Melbourne's population rapidly increased and Melbourne was transformed into a major city. At the same time many new industries and buildings were being developed. These factors all meant that systems needed to be created to supply water to Melbourne.​

1853​

The Board of Commissionaires of Sewers and Water Supply was formed in response to the demand for a reliable water supply system.​

1857​

1857 Yan Yean Reservoir, Melbourne's first water supply reservoir, was completed and began to supply water to Melbourne, which by now had a population of 100,000.​

1891​

The Melbourne and Metropolitan Board of Works (MMBW) was formed and became responsible for Melbourne's water supply. Melbourne had grown to a city of half a million people. To provide water to this rapidly growing city, especially the eastern suburbs, the Watts River (near Healesville) was tapped. It supplied water to Melbourne, via the Maroondah aqueduct.​

1910

By 1910, there were 123,227 connections to Melbourne's water supply system.​

1920s​

In response to growing complaints about water quality and lack of water pressure in Melbourne's eastern suburbs, a large-scale dam construction program began. Maroondah Reservoir, about 55 kilometres northeast of Melbourne, was completed in 1927. The completion of Maroondah Reservoir, O'Shannassy Reservoir in 1928 and Silvan Reservoir in 1932 saw Melbourne's storages boosted from a capacity of 30,000 million litres to 104,500 million litres.​

1940​

A very dry summer in 1937/38 resulted in water restrictions being imposed in Melbourne. The Melbourne and Metropolitan Board of Works also started planning for the building of a new dam to expand Melbourne's water supplies.​

1946​

After delays caused by World War II and another two summers of water restrictions in 1945 and 1946, construction began on the Upper Yarra Reservoir and a major scheme of pipelines and tunnels to bring more water to Melbourne.​

1950​

Rapid population growth after World War II in Melbourne meant that new supplies of water were urgently required.​

1957​

The Upper Yarra Reservoir was completed, tripling Melbourne's total water storage to nearly 300,000 million litres.​

1960s​

Many parts of the water supply system were replaced / renewed.​

1966​

Plans for the construction of the Cardinia and Thomson Reservoirs were accepted by the Victorian Government.​

1967​

1967 Following the severe drought of 1967/68, the building of Cardinia Reservoir commenced. Work also commenced on diverting part of the flow of the Thomson River in Gippsland into the Upper Yarra River catchment.​

1971​

To meet growing demand in the western suburbs, particularly during summer, a reservoir with a capacity of 27,000 million litres was completed at Greenvale.​

1973​

Construction of Cardinia Reservoir was completed. As part of a new Victorian Government policy that fluoride should be added to all public water supplies, construction began on local fluoridation plants.​

1975​

Yarra Valley Conduit and Silvan-Cardinia main were built to improve capacity to transfer water between the Upper Yarra and Silvan reservoirs, and to allow water from the Thomson River to be transferred to Cardinia Reservoir.

1981​

The Sugarloaf Reservoir Project, including a major pumping station and water treatment plant was completed, increasing Melbourne's total storage capacity by 95,000 million litres.​

1983​

The final stage of the Thomson project concluded in May with an extension of the Thomson-Yarra Tunnel and completion of the dam wall. The Thomson is the largest capacity reservoir ever built by the Melbourne and Metropolitan Board of Works. Officially connected to Melbourne on 31 July, 1984.​

1984​

'Don't be a Wally with Water' advertising campaign was launched aimed at changing people's attitudes to wasting water. Dual flush toilets became compulsory for all new toilet installations.​

1991​

The Melbourne and Metropolitan Board of Works merged with a number of smaller urban water authorities to form Melbourne Water.​

1994​

The Victorian Government announced that Melbourne Water was going to be divided into three retail water companies and a wholesale water company.

Melbourne Water stopped using untreated water from the Tarago Reservoir in 1994 when it became unsuitable for drinking, and accessed supplies from its other storages (close to 90% full at that time).

1997​

Amount of water flowing into major dams drops suddenly to a third of 1996 levels, starting what becomes a longer-term trend.​

2000​

Inflows briefly return to historical average of around 600 billion litres a year. Storages recover to just over 60% of total capacity.​

2002​

Low inflows continue. Stage One water restrictions are introduced as water storages just over half full.​

2003​

Stage Two water restrictions are introduced in August.​

2004​

In 2004 the Victorian Government put in place a long-term plan for water, Our Water Our Future, which sets out 110 initiatives for water conservation aimed at every sector of the community, seeking to provide water to sustain growth over the next 50 years.​

2005​

Five permanent water saving rules replaced Stage Two water restrictions in March.​

2006​

 Melbourne's water storages receive the lowest annual inflows on record - less than a third of the historical average. Storages drop from 58.4% in January to 38.9% in December.​

2007​

Stage 3 water restrictions introduced in January, increased to Stage 3a in April. ​

2008​

The Victorian Government introduces the Target 155 program, a water consumption target of 155 litres per person per day for residents in metropolitan Melbourne. T155 is used in conjunction with Stage 3a restrictions.

2009​

Devastating bushfires in February damaged about 30% of Melbourne's water supply catchments to some degree. Most of this was in the O'Shannassy and Maroondah catchments. Water supply to Melbourne unaffected.

Melbourne's water storages fall to 25.5% in June, the lowest level since the Thomson Dam began filling in 1984.

The Tarago Reservoir Reconnection Project, which included a water treatment plant, was completed six months ahead of schedule and under budget. Melbourne's total storage capacity increased by 37,500 million litres when officially reconnected on 24 June.

2010​

The Sugarloaf Pipeline is officially connected to Melbourne five months ahead of schedule, providing the biggest single boost to the city's water supply system in more than a quarter of a century.

Stage 3 Water Restrictions replaced Stage 3a in April. Water restrictions were eased to Stage 2 in September.​