As a community, we value our rivers and creeks and consider them to be important environmental and recreational assets. However this was not always the case in the past.​
Pre-1830s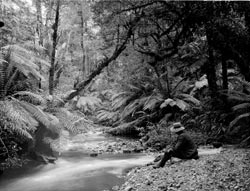 Aboriginal people lived close to waterways throughout Victoria. Rivers and creeks often formed boundaries between clans and provided meeting points and places for ceremonies. The Yarra River was called Birrurung by the Wurundjeri people. There were many wetlands where Melbourne and its suburbs now stand, which were great sources of food and water. The wetlands included the Carrum Carrum Swamp (which stretched from Mordialloc in the north to Frankston in the south) and the area south of the Yarra River (Albert Park Lake is all that remains of this once extensive wetlands area).
1835
The Port Phillip Association sent a group from Tasmania to look at setting up a colony. They explored the lower reaches of the Yarra and Maribyrnong rivers, before choosing the current site of Melbourne.
1840s
Melbourne's rivers and creeks were often used as a dumping ground for waste from homes and businesses. Waste in rivers and creeks caused disease outbreaks and damage to the environment. As the water was not safe for drinking, people had to buy clean water from commercial water carters.
Mid-late 1800s
The Government secured more than 100,000 hectares of land around the source of the Yarra River to ensure pristine water for the growing city. Because of these protected areas, Melburnians now enjoy one of the best water supply systems in the world.
In the 1880s the falls across the Yarra River, where Queens Bridge now stands, were blasted out to allow shipping further upstream, but this also increased salt water levels further up the river, causing significant environmental changes.
Early attempts to control pollution in our waterways were largely ignored by society. In the 1890s the Government held an inquiry which recommended the building of a sewage treatment farm. The newly formed Melbourne and Metropolitan Board of Works (Melbourne Water's predecessor) created the Western Treatment Plant in Werribee, which started treating the sewage that had previously flowed directly into the Yarra River.
Early – mid 1900s
Melbourne is situated in a low-lying, flood-prone basin and has a highly variable rainfall. Yet despite periodic flood crises in many parts of the city, very little had been done to develop a drainage system for Melbourne by the 1920s.
In 1924, the Metropolitan Drainage and Rivers Act was established to define the city's drainage requirements.
Melbourne grew strongly in the early to mid 1900s, spreading out across previously undeveloped areas. Many wetland areas were drained or filled in for development, and some creeks and rivers were altered for drainage and flood control.
Dredging, bank widening and stabilisation in the Yarra and Maribyrnong rivers commenced in the 1920s and continued throughout the 1930s. Due to the Great Depression however, the Board struggled to raise finance.
In 1934 extreme heavy rain and storms caused Melbourne's rivers and creeks to break their banks, causing widespread flooding. Port Phillip Bay experienced record high tides and the Yarra River reached 12 meters above normal height. It became clear that the city needed a better drainage system.
In 1937 low cost loans and the release of unemployment relief funds eventually helped to finance large-scale drainage works. New, stable and less flood-prone riverscapes began to take shape.
1960s
Environmental action against the South Eastern Purification Plant outfall extended into widespread concern about Melbourne's environment and the state of our rivers, creeks and the bay. Newspapers carried images of polluted creeks and drains and concern focused on the 'dying Yarra'.
Environmental issues became a feature of the late 1960s and early 70s.
In 1968 an independent study of Port Phillip Bay, including the impact of Werribee Farm and urban run-off commenced.
1970s
The introduction of the Environment Protection Act  in 1970 ensured a major improvement in river health. Industrial waste had to be treated rather than being emptied directly into rivers and creeks. Many of Melbourne's outer suburbs and rural areas were connected to the sewerage system.
The independent study of Port Phillip Bay (which started in 1968) was completed in 1973 and concluded that the bay was generally in good condition for a city the size of Melbourne. However the report also found heavily polluted 'hot spots' around the mouths of rivers, creeks and drains, particularly the Yarra River, the Patterson River and Mordialloc Creek. It also found 3,500 tonnes of nitrogen, phosphorus and silica entered the bay each year, of which two thirds came from Werribee Farm outlets.
In 1974 flash flooding in the Maribyrnong River, Moonee Ponds Creek and Merri Creek caused havoc. In response to this disaster, the Board installed monitoring devices to measure flow levels and linked these to the Board's telemetry system to provide early flood warning.
In 1977 the Drainage of Lands Act strengthened the Board's ability to prevent development of flood-prone land. This also heralded a new approach to drainage in which engineers tried to mimic nature, by slowing down flood waters through retarding basins and flood plains, rather than trying to get rid of flood waters as fast as possible.
1980s
Remaining wetland areas were protected, recognising their importance. The community started to appreciate the value of rivers and creeks more, leading to the establishment of dedicated groups committed to cleaning up their local rivers and creeks.
1990s
Major advances in waterway management occurred and native fish and platypus started to return to our rivers and creeks as a result of improvement projects.
Local councils and the development industry also became more involved in assisting Melbourne Water to reduce stormwater pollution. In 1998 Melbourne Water began to include drainage schemes, wetlands and water sensitive design in all new urban developments. Community, farmers and other key stakeholders also joined in protecting and improving waterway health.
Melbourne Water and the CSIRO announced an $11 million study into the health of Port Phillip Bay in 1991. The study was the first of its kind and took five years.
In an effort to manage litter in the bay, Melbourne Water installed its first litter traps in the Nautilus Street drain in Sandringham and the St Kilda Main Drain in 1992.
In September 1993 Melbourne Water's telemetry system was put to the test and proved a great success - providing early warning of the heaviest flooding in the Maribyrnong River since 1974.
In 1999 Melbourne Water announced the $130 million Healthy Bay Initiative, consisting of major works and environmental improvements at the Western Treatment Plant and the construction of 10 wetlands in Melbourne's south-east growth corridor, designed to improve the health of Port Phillip Bay by reducing nitrogen outflows from the Western Treatment Plant and stormwater run-off.
Rivers, creeks and wetlands today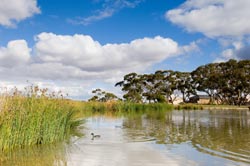 Community standards and expectations have greatly changed in recent years. This is reflected in increased community involvement in caring for rivers and creeks, and stronger environmental regulation.
The Port Phillip and Westernport region is home to almost four million people and is expected to grow by one million by 2030.
Major changes are being made in rural areas, with intensified farming practices, changes in crop types and an increase in small 'hobby' or 'lifestyle' farms on the urban fringe.
Today, urban development is more sustainable in its approach, and water sensitive urban design is being introduced into suburbs to protect water quality and river and creek health. Waterways are now also valued in the urban landscape and are generally included in open spaces for new developments.
However, continuing urban growth has led to a decline in river health. As in the past, it will be a challenge to protect rivers and creeks as the lands around them change.