Conserving our heritage is an important part of valuing and preserving our traditions and culture. We are responsible for managing different types of heritage, including built, indigenous, contact and natural heritage.​
What is cultural heritage?
Heritage is our inheritance from past generations.
Heritage is about identity – the past contributes to our sense of who we are today and helps determine our future aspirations.
Heritage includes built places and objects, as well as social values and practices like traditions, customs and spiritual beliefs.
Historic (built) heritage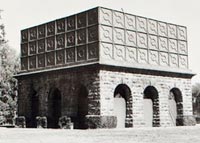 Historic, or built, heritage includes places and objects built in the years of Melbourne's European settlement, such as:
buildings
monuments
gardens
industrial sites
designed landscapes
archaeological sites
These assets tell us about social changes, technical and creative achievements, and provide a tangible link to past events, processes and people.
Managing built heritage
We manage a large number of historic places and objects. It is our responsibility to not only maintain and protect these valuable assets, but document and protect heritage values when such infrastructure is no longer used.
In Victoria, historic (built) heritage is primarily managed through the Heritage Act 1995 and the Planning and Environment Act 1987. We now have more than 20 places and assets listed on the Victorian Heritage Register, with a number of sites yet to be assessed.
We work closely with our partners at Heritage Victoria to make sure that these assets are protected for future generations to appreciate.
Indigenous heritage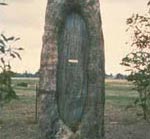 Melbourne's rivers and creeks are important to all members of the community, particularly Aboriginal people.​
​Indigenous heritage includes culturally and spiritually significant places for past and present Aboriginal communities, including stories and traditions. These continue to be places of spiritual and community activity today, and include:
sacred sites
ceremonial sites
fish traps
burials
scarred trees
camp sites
settlements
In our role as waterway manager within the Port Phillip and Westernport catchments, we are committed to protecting these important natural and cultural values that are so significant to all communities.
Working with our Aboriginal partners
The Victorian Aboriginal Heritage Act 2006 recognises Aboriginal people as Traditional Owners of the land. We work closely with the Traditional Owners of the land on which we operate to protect Aboriginal cultural heritage, as a key part of overall river health.
Registered Aboriginal Parties represent Traditional Owners, and help manage and protect Aboriginal cultural heritage on behalf of all Victorians. Registered Aboriginal Parties have legal responsibilities for managing Aboriginal cultural heritage, including:
evaluating Cultural Heritage Management Plans
providing advice on managing cultural material
Find out about the Registered Aboriginal Parties and Traditional Owner groups within our service area:
Contact heritage
Contact heritage includes sites and places where Aboriginal culture has encountered another culture, such as European people, and the impacts and influences on these sites and places.
Natural heritage
Natural heritage includes sites and places of environmental importance. We have long considered the protection of natural values in all our works and have mechanisms in place to ensure we protect the environment.
You may also like...
An independent statutory body that identifies and protects places and objects of cultural heritage significance.
Includes Victoria's most significant heritage places, objects, shipwrecks and known archaeological sites.
Focuses on Aboriginal policy reform, community strengthening and engagement and cultural heritage management and protection.