Porous paving allows water to pass through it and filter back to the drains or into groundwater.
​Treatments and contaminants
Primary and secondary treatments include:
physical screening

rapid sedimentation

separation processes
Typical retained contaminants include:
gross pollutants

coarse sediments
How porous paving works
Porous paving is an alternative to conventional impermeable pavements, with many stormwater management benefits. These surfaces allow water to percolate through to a sub-surface course, from where it either infiltrates to the soil or is filtered back to the drainage system.
Porous paving can be used for a variety of water management objectives to:
reduce peak stormwater discharges from paved areas

increase groundwater recharge

improve stormwater quality

reduce the area of land dedicated solely to stormwater management
Porous paving layers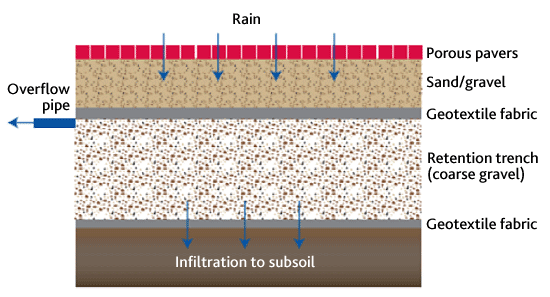 Types of porous paving
A number of porous paving products are commercially available including:
pavements made from special asphalts that allow stormwater to filter through the pavement surface

concrete grid pavements that allow stormwater to filter through voids in the concrete

plastic modular block pavements that allow stormwater to filter through voids in the plastic matrix
Asphalt porous paving
Asphalt porous paving is laid on a sand/gravel sub-base over natural soil.
The asphalt porous paving system operates by rainfall percolating through a porous asphalt layer to the sub-base. Stormwater is stored in the sub-base until it infiltrates to the surrounding soil.
When the surrounding soil is impermeable, subsoil drainage is installed below the sub-base to allow stormwater to overflow to the street drainage system.
Concrete grid and plastic modular block porous paving
There are many different types of concrete grid porous pavement systems, including concrete poured in-situ, precast concrete grids and modular pavers. Plastic porous paving is usually used in modular block form.
The concrete or plastic pavers contain many evenly spaced void areas that are filled with sand, gravel or grass. The pavers are typically placed on a sand or gravel base.
Modern design practice includes retention trenches placed below the sand/gravel layer and an overflow to the street drainage system. The paving operates by allowing rainfall to percolate through the voids between the pavers to the sand/gravel layer, and subsequently through the geotextile fabric to the retention trench.
Stormwater in the retention trench infiltrates to the surrounding soil and, when necessary, overflows to the street drainage system.
Advantages and limitations
Advantages of porous paving systems are that they:
retain pollutants close to source

reduce site run-off, attenuate flood peaks and increase groundwater input

can appear more aesthetically pleasant than conventional drainage channels
Limitations of porous paving systems are that they:
can only support light traffic loads

are prone to pavement clogging, which can reduce effectiveness

carry a risk of possible groundwater contamination

are only suitable for mildly sloped sites
Tips and advice
Concrete grid pavers can retain heat in hot climates, decreasing the viability of growing grass in the pavement voids. Plastic modular block pavers are better suited to growing grass in hotter climates.
For more information on the design of porous pavement systems, refer to Chapter 14.4 'Other Measures' in the WSUD Engineering Procedures available for purchase from CSIRO Publishing. 
WSUD Engineering Procedures - CSIRO Publishing