Both experienced twitchers and beginner birdwatchers can try their luck spotting hundreds of different bird species – some rare and endangered – amongst Melbourne's wetlands, rivers and creeks.
COVID-19 update: To ensure we are protecting the community and Melbourne Water staff – and complying with the latest state health advice – our customer-facing sites, including the Western Treatment Plant birdwatching areas, remain closed to visitors until further notice.
Details will be communicated as soon as circumstances change and we can allow people to access our birdwatching areas again. Until then, we hope you'll enjoy a recently filmed guided tour of the bird habitat at the Western Treatment Plant, or explore it through our virtual tour featuring 360-degree views, interesting facts and videos.
For more information, view our latest update.
Western Treatment Plant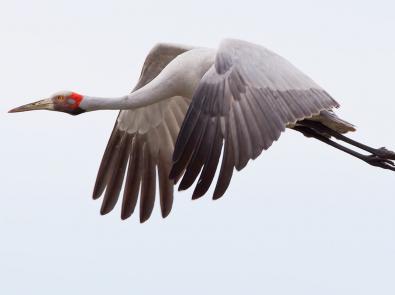 The Western Treatment Plant is one of the most popular sites for birdwatching in Victoria, with  species of birds recorded there from south-eastern Australia and the east Asia.
The plant's lagoons, grasslands and coastline provide an ideal and varied habitat for birds with a permanent water supply, plenty of food, and little interference from humans.
You must apply for a permit to birdwatch at the Western Treatment Plant, and all visits must be registered. 
Apply for a birdwatching permit
Bird species at Western Treatment Plant
Eastern Treatment Plant
The Eastern Treatment Plant is home to a large native bird population, including many species of regional, state and national significance.
The plant provides habitat for large numbers of migratory waders. These birds arrive around August then leave for the northern hemisphere between February and May. Some travel up to 24,000 kilometres a year.
Monthly four-hour bird counts at the plant are organised by Birdlife Australia — contact them to register your interest in taking part.
Bird species at Eastern Treatment Plant
Volunteer with Birdlife Australia
Edithvale–Seaford Wetland
The Edithvale–Seaford Wetland is the largest remaining natural wetland of its kind in the Port Phillip and Westernport region. It is estimated that at any one time, up to 7,000 birds call the wetland their home.
The wetland features:
an education display at the Edithvale–Seaford Wetland Education Centre
an extensive walking and bicycle track around the outside of both wetlands
elevated platforms across the area
You do not need a permit to bird watch at the wetland.
Edithvale-Seaford Wetland Education Centre
Friends of Edithvale-Seaford Wetlands website 
Other birdwatching locations
Read how the Yarra River and Mullum-Mullum Creek also offer great opportunities for spotting feathered friends.