From the foothills of the Dandenong Ranges in Melbourne's southeast, Dandenong Creek flows 53 kilometres into the Patterson River, and onto Port Phillip Bay.
Get to know the creek:
History
The name Dandenong is thought to come from the Aboriginal word Tanjenong, meaning 'high mountain' – a possible reference to Mount Dandenong where the creek originates. The creek provided water and food for the Boon Wurrung people, and its Eucalypt trees were used to make tools, weapons and canoes, as well as bags and nets. Gum was often applied to ease toothache.
The first European to set eyes on Dandenong Creek was likely to have been botanist Daniel Bunce, in about 1839. Cattle soon arrived to graze along its banks, followed by timber cutters (the excellent river gums were used to build structures like Melbourne's wharves). Farmers also worked the plain to supply produce to the Dandenong livestock market.
Flooding was always a major problem. Under J.B. Patterson, the Minister for Works, Patterson's Cut was built in 1879, later becoming Patterson River and eventually the suburb of Patterson Lakes. Urban development in the post-war boom saw much of the creek channelled to reduce flooding, reduced to a concrete drain in many places – though we've been working to reverse this in recent decades.
Natural features
The creek begins life as a series of springs on the western slopes of the Dandenong Ranges, where Dobsons and Monbulk creeks are its tributaries. The surviving forest houses native plants and animals such as the rare Swamp skink and platypus.
Once out of the forest, the creek flows through residential areas that were once farmland. Pockets of parkland can be found nearby, and many old billabongs and wetlands throughout the Dandenong Valley host a diverse mix of plant species.
Past the suburb of Dandenong, the coastal or plain section runs through perennial swamplands to Mordialloc Creek, Patterson River and Port Phillip Bay.
Wildlife
Before the arrival of Europeans, Dandenong Creek and its extensive wetlands provided habitat for a great variety of wildlife – including kangaroos, wallabies, emus, possums and other small marsupials and waterfowl. Although many species have since disappeared, you can still find Ringtail and Brushtail possums, echidna and more than 20 species of birds.
Other highlights include:
Fish: the creek supports three species of native fish, and the endangered Dwarf galaxias was found in its tributaries and wetlands until the early 2000s.
Birds: some of Australia's most iconic birds can be found along the creek, which is a haven for insectivorous birds, nectar-feeders (such as the honeyeaters), birds of prey, seed-eaters and waterbirds – including the Cattle Egret, Australasian Bittern and Blue-billed Duck.
Frogs: among the many frog species inhabiting the creek, the endangered Growling Grass Frog is perhaps the best known.
Mammals: dense foliage and tree hollows shelter a variety of mammals, including eight species of bats and the iconic Grey-headed Flying-fox and Sugar Glider.
Reptiles: the regionally-significant Eastern Snake-necked Turtle can be found within the waterway, and has been known to migrate over long distances (sometimes ending up in suburban backyards!)
The creek is also home to some of Victoria's most beautiful and iconic flora. This includes the majestic Eucalypt tree, as well as the regionally-significant Muttonwood and rare Yarra Gum – both found in healthy numbers.
For an in-depth look at plant and animal species you might find, view our wildlife guide:
Places to visit
In recent decades we've worked to enhance the appearance of the creek and its surrounds. Extensive recreation areas have been developed along the creek, many of which you'll pass on the popular 49-kilometre Dandenong Creek Trail, which stretches from Kilsyth South to Carrum.
Notable green corridors along the creek include:
Jells Park (Wheelers Hill)
Koomba Park (Wantirna)
Shepherds Bush (Wantirna South)
Campbells Croft Reserve (Vermont)
Birdlife abounds, especially in deliberately-maintained wetlands and the extensive swamplands near the coast. This includes the Edithvale-Seaford Wetlands, a world-renowned sanctuary for many species of birdlife.
Protecting the creek
Like many other waterways, Dandenong Creek is in best condition near its source in the Dandenong Ranges, but declines significantly as it passes through urban areas. Here, the creek's health ranges from moderate to very poor, with the septic tanks, light industry and previous environmental ignorance combining to degrade it.
Ongoing issues include habitat loss, barriers to wildlife migration and stormwater pollution. The creek has been the focus of clean-up campaigns in recent years, and we work with EPA Victoria and community groups on conservation and water quality monitoring efforts.
Community champion: Barry Robinson – founding member of First Friends of Dandenong Creek 
"I've lived here since I was a boy and the creek was like an extension of my backyard. We used to swim in the creek and even catch fish and eat them.
I've watched over the years as it has fallen victim to polluters and turned into something more like a drain than the beautiful natural resource it should be.
My hope is that someday we can return it to its original condition so that generations to come can enjoy its many treasures, like I did when I was a boy."
You may also like...
Our iconic waterways are the lifeblood of Melbourne's natural landscape – learn how you can help look after them.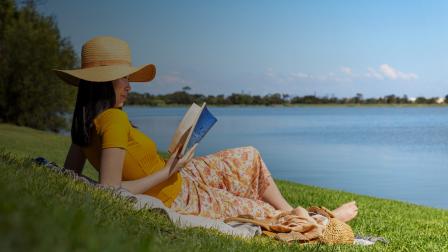 Learn about grants available to support innovation, liveability and collaboration across water management, and improve river health.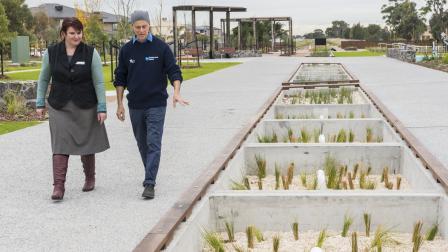 View annual progress towards 10-year targets for waterways in the catchment, as set out in the strategy.