The River Health Incentives Program (RHIP) provides financial and technical assistance to landowners, local government, Parks Victoria and community groups to help them improve the condition of our waterways.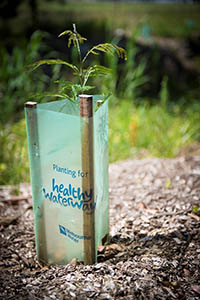 RHIP consists of four different program types, suited to different landholders to deliver different waterway health outcomes. The four programs are:
Stream Frontage Management Program (SFMP)
Rural Land Program (RLP)
Community Grants (CG)
Corridors of Green (CoG) program
The key aims of the program are to:
work with land managers to deliver cost-effective waterway improvement projects
equip land managers with the right skills and knowledge to carry out and maintain waterway improvement projects
ensure customer satisfaction through high quality program delivery
Stream Frontage Management Program
SFMP provides cost-share project funding to private landholders who manage a waterway frontage on their property. Applicants will have their frontage assessed for free to scope project opportunities and are then eligible for grant funding to assist with:
stock exclusion fencing
stock watering facilities
weed control
revegetation works
Find out more and apply for the Stream Frontage Management Program.
Corridors of Green
The program provides project grants of up to $20,000 (on a cost-share basis) to managers of public land along a waterway including municipal councils and Parks Victoria.
Find out more and apply for the Corridors of Green program.
Community Grants
Grants offered to volunteer community groups annually are to support groups to deliver waterway improvements on public land. Community groups can apply for:
support grants – up to $1,000
project grants – up to $20,000
Groups have 18 months to spend the funds and are required to submit a detailed report at the end of the project.
Find out more and apply for the Community Grants program.
Rural Land Program
The program provides free farm assessments to assist with planning and scoping works that will keep soil and nutrients on farm, improve water resource management and improve water security throughout the catchment. Grants are offered on a 50% cost share basis opportunity for landholders to undertake a variety of works that will help to improve the health of our waterways.
The program targets rural land use properties in the following catchments:
Woori Yallock, Wandin Yallock, Olinda, Stringybark, Yering, Hoddles Creek and Little Yarra
Upper Jacksons, Upper Deep Creek and Upper Werribee
Tarago, Upper Bass and Lang Lang
Find out more and apply for the Rural Land program.
Achievements and outcomes
These projects directly contribute to important implementation targets identified in the Healthy Waterway Strategy (HWS) and the Stormwater Strategy (SWS) and help build strong working relationships between Melbourne Water and the greater community.
The RHIP and its participants have contributed to ongoing weed control, vegetation management, the planting of over 3 million plants and the instalment of 1,512kms of fencing along our waterways, that's similar to fencing from Melbourne to Byron Bay.
Since 1996, the program has provided over 12,000 grants to over 4,600 participants at a total dollar value of over $45 million.
Collaborating for waterway management
RHIP is an effective program that promotes community participation by collaboratively developing landholder skills and increasing their knowledge about the land, environment and adjoining waterways. It shares cost and effort with the recipients, many who have been in the program over numerous years, which results in empowerment, stewardship and advocacy within the community.
To date RHIP has worked with 38 councils, over 230 Friends Groups and in excess of 4,300 individual landholders to protect and improve the health of our waterways.
A new incentives program is coming soon – we are broadening our existing incentives and grants offerings to better support our customers and the community by creating a new Incentives Program. This does not affect your existing grants at this stage and existing programs remain open for new applications. We will engage with you further once the new program is refined.