How can the Western Treatment Plant help Melbourne to thrive and adapt to an uncertain future?
In this series of lessons, students use an inquiry approach to:
Explore how the Western Treatment Plant processes sewage
Investigate how this water could be used to mitigate the impacts of population growth and climate change.
Working in groups allows students to learn from each other and justify their thinking, but this module could be adapted for individual or pair work.
Rationale
Demand for water is growing in Melbourne, due to population growth and climate change. Victoria's population is predicted to almost double – reaching 10 million people by 2051. As our climate changes, Melbourne will more frequently experience warm and dry days, when demand for water increases and water stores can fall very quickly.
The Desalination Plant was built following the Millennium Drought and provides a valuable supply of water to top up water stores. Currently, it can deliver up to one-third of Melbourne's current annual water needs: 150 billion litres of high-quality drinking water a year. As demand increases in the future, Melbourne will need to find additional water sources to secure our supply, including expanding the use of recycled water.
At the end of the unit, students will design a campaign to address the 'yuck' factor of recycled effluent and encourage Melburnians to embrace the potential of the Western Treatment Plant.
Lesson outline
The following table provides an overview of the activities in each lesson. Presentations, instructions and rubrics can be downloaded in the following section.
Lesson
Activities

Dive in
(1-2 hours)

See, think, wonder
Claim, Evidence, Question
Water restrictions
SEEP table

Find out
(3 hours)

KFL Chart
Find out about the WTP, take the virtual tour
Rubric: Hexagonal concept thinking
Rubric: Survey to find out what Melburnians think - collect primary data
Benefits of recycled water - SEE chart

Dive deeper
(1-2 hours)

Case Study: Drinking recycled water - Toowoomba
Which cities already use recycled water? Mapping activity

Make conclusions
(2-3 hours)

Rubric: Socratic Seminar to consolidate learning/ arguments
Rubric: Social media campaign to promote benefits of recycled water.
Presentation and feedback in the form of 'I like, I wonder'

Reflect and act
(20 minutes)

I used to think, now I think
Completed KFL chart
Lesson downloads
Download materials for each lesson and view further details, including learning intentions and Victorian Curriculum links.
Dive in

Find out

Dive deeper

Make conclusions

Reflect and act
You may also like...
Go behind the scenes of with our virtual tour, exploring the stories, videos and panoramas that bring this fascinating site to life!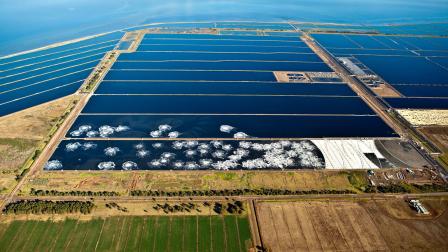 Know more about sewerage and sewage. Find out what happens after you flush, then read the benefits of 'poo power' harnessed by the treatment process.