Visiting the Western Treatment Plant is a great way to learn first-hand how the plant works and experience the scale and environmental importance of the site.​
Changes to education tours in 2019
We have now relocated our upgraded administration building to the historic town of Cocoroc. However, for the time being, Education Tours will still use the Discovery Centre with access via Exploration Avenue off Geelong Road/Princes Highway, between New Farm Road and Newmarket Road.  
Once the new education buildings are completed, access will be via William Thwaites Drive and Metropolitan Farm Road. We will work closely with schools booked in for tours in the latter half of 2019 to ensure the tours meet your needs.
Changes to Education tours in 2020: No tours will be held in Term 1 of 2020 (January - April), we will work closely with visitors to ensure that tours meet your needs after Term 1. 
Book your visit
Weekday visits to the Western Treatment Plant are available to school, tertiary and community groups by pre-booking on available dates. If you need help booking, call us on 131 722.
Tours will be cancelled on Total Fire Ban days and Extreme or Code Red Fire Danger ratings.
Members of the public can tour the site during one of our regular open days.
A virtual tour is coming in 2019
A virtual tour of the Western Treatment Plant will be available in late 2019. The tool has been created in line with the curriculum and will let you visit WTP without even leaving your home or classroom!
Your Say Western Treatment Plant 
Schools
Primary and secondary school students can learn about the urban water cycle during a guided tour. Schools can also complement their tour with some of our educational activities.
Tertiary and community
Guided Western Treatment Plant tours are also available to industry and community groups, TAFE and tertiary students.
Tertiary and community — book now
Pricing
The cost of each tour varies depending on group and tour type. Prices are quoted per person and are GST inclusive.
For school groups, each educational activity costs an additional $4.00 per student.
| Group type​ | Max. group size​ | Length​ | ​Cost | ​Min. booking fee |
| --- | --- | --- | --- | --- |
| Years 3-9    | 90​ | 1 hr​ | From $4.00 | $190 ​​ |
| Years 10-12​ | ​90 | ​2 hrs | ​$8.00 | ​$190 |
| ​Seniors | ​50 | ​2.5 hrs | ​$9.30 (includes morning tea) | ​$225 |
| TAFE, tertiary and community​ | 30​ | ​1-2 hrs | ​$8.00-$12.00 (depending on length of tour) | $225 |
A cancellation fee of $60 applies with less than 5 business days' notice.
Groups must supply a bus for the tour and ensure the bus company has an appropriate public liability insurance policy ($10 million minimum). 
Safety
We are committed to the safety of all visitors to our sites.
When visiting our tour sites, we ask that you strictly follow these safety rules at all times:
wear closed-toe, flat-soled shoes – sandals and thongs are not permitted on site
wear long pants/trousers
stay with your tour guide at all times while on tour
do not climb on or over railings
do not touch any machinery or equipment
do not run
The Western Treatment Plant treats sewage, which contains many micro-organisms including bacteria, viruses and parasites. When visiting the plant:
avoid contact with sewage and sewage-related products
wash your hands before leaving the plant or eating
do not eat or drink during the tour
wash any contaminated clothing separately to your normal washing
cover any open wounds, and report any minor cuts or abrasions that occur while onsite to Melbourne Water
wear appropriate clothing for all weather conditions as activities are conducted outdoors
Student supervision and discipline is the school's responsibility, and teachers and adults accompanying school groups should actively supervise students at all times. Students should not be unsupervised at any time.
We reserve the right to cancel a booked tour, and ask individuals or groups to leave the site immediately if any action or behaviour is unsafe.
Education activities
Make your visit to the Western Treatment Plant even more exciting and educational with our activities for students to complete before, during and after their visit.
Teacher activities – before and after visiting
Our Melbourne's Water Story website hosts a variety of resources that teachers can complete with their students before and after visiting the plant. These include hands-on investigations and discussions, enhancing students' tour experiences and supporting units of work around wastewater treatment.
Melbourne's Water Story — teacher resources
Tour activities – during the visit
School groups can participate in up to three education activities, which are run by our education officers at the plant.
Activities must be nominated at the time of booking, and additional costs apply for each activity per student.
Discovery Centre guided tour (years 3–12)
Where does our drinking water come from? What goes on beneath our city? How is water recycled? Take a guided tour of the water cycle story from the catchments to the coast and learn how we're helping to create a sustainable future.
Living in a catchment (years 5–10)
What is a catchment? What's in a catchment? What are the differences between the upper, middle and lower regions of a catchment? Students work in teams to construct a giant jigsaw puzzle to study the factors that affect water quality.
Stormwater story (years 3–6)
How does litter and rubbish end up in our rivers and creeks? Students act out a journey down the Yarra River from catchment to coast to see how humans impact stormwater quality.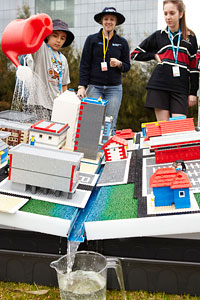 Water smart city (years 3–10)
Explore stormwater and pollution in the Lego city! Students are introduced to the impacts of stormwater on our waterways and bays. Working with the model, students address stormwater issues and adapt the city to make it water smart.
Water recycling model (years 5–10)
This model helps students better understand where our water comes from and the ways that recycled water can be used in horticulture, agriculture, industry and recreation. Real water flows over the model's catchment landscape with sound effects and track lighting showing different features of the model in action.
Wetland food chain game (years 3–6)
What happens to our food chain when there are too many predators? Students find out through this interactive game, which illustrates the food cycle and energy transfer in our special wetland environments. The game demonstrates the effects of pollution and predators on the transfer of energy between trophic levels.
What goes where? (years 3–7)
Where should household wastes go? What can go onto the compost heap, the recycling bin or the trash? What should go into the sewerage and stormwater systems? In this interactive game, student teams actively debate the answer to these questions.
Micro-organisms at work (years 7–9)
Discover the micro-organisms that play an important role in the biological treatment of wastewater at the Western Treatment Plant. Learn about how different environments in the treatment process are managed to encourage different micro-organisms to go to work. 
Discovery Centre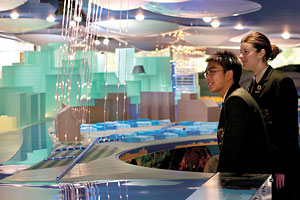 The Water Discovery Centre brings the water cycle to life for visitors through engaging displays. Visitors can interact with the displays to learn more about:
the urban water cycle

water supply from our protected catchments

what happens to the water we flush down the toilet or pour down the sink
The centre is open by appointment only. Register your interest by calling us on 131 722.
School groups can add a guided tour of the Discovery Centre to their tour of the Western Treatment Plant as an additional educational activities.
Open Day
We hold open days at the Western Treatment Plant to give our community a glimpse 'behind the scenes'. Bring your family and friends and enjoy our world class facility.
To register your interest in attending the next open day, please provide your email address.
At our open days you can:
learn about life on the wetlands
visit one of Victoria's largest working farms
discover how renewable energy is created from our sewage treatment practices
participate in learning activities, including the urban water cycle model
Bus tours leave from the Discovery Centre on New Farm Road:
Poo power: see how sewage from 1.6 million people is treated everyday
Bird lovers delight: head out to our wetlands, spot some birds and learn about how we manage biodiversity on site
From waste to resources: we receive waste and make it into valuable resources that help reduce the site's operating costs
Looking back in time: listen to stories from indigenous Elders, visit the historic town of Cocoroc and hear about the evolution of sewage treatment
All powers combined: everything you could want on one tour - sewage treatment, history, agriculture, wetlands