Melbourne's water supply system provides services to urban and regional water users including residential customers, industry, business, irrigators, and the environment.
Over four million people in Melbourne and the surrounding region are connected to the system, relying on it for high-quality water for their homes, gardens and businesses.
The water supply system includes protected catchments, reservoirs and dams which harvest and store rainwater, and pipes and pumps which transfer the water. The system includes the Victorian Desalination Project which is the only source of water that doesn't depend on rainfall, making it a valuable and flexible asset for meeting our community's water needs now and into the future.
Pressures and challenges
Melbourne's water supply system faces three key challenges:
climate change
climate variability
population growth
Climate change
Climate change means that we expect average rainfall in south eastern Australia will continue to decline and we will also experience longer, more severe droughts.
Climate variability
Australia is known as a country of drought and flooding rains. During major drought periods water storages can be drawn to low levels and we cannot be certain that we will not experience more severe droughts than we have in the past.
Population growth
By 2050, Melbourne will be Australia's biggest city. This population growth means there will be more people and businesses needing access to high quality drinking water.
It is important that our water supply system has the resilience to meet growing population needs, and to adapt to the current and future extremes that climate change will bring.
New water sources and savings
Declining average rainfall with a growing population means that we need to continue to use water efficiently and look to other water sources to meet our needs.
Savings 
Water efficiency and restriction programs have been put into place throughout Australia. These programs have educated people about the better use of water, changed behaviour and seen the introduction of water-saving technologies like shower heads and water tanks in many homes and industries. This includes the Target 155 program in Victoria.
However, as people change their behaviour to become more water efficient all the time, we can no longer rely on restrictions to produce significant water savings during droughts. 
Sources 
Governments throughout Australia are looking to a range of sources of water supply in response to the challenges of climate, increasing climate variability and population growth.
In Melbourne, the available portfolio of water supply options to make sure we can meet the needs of our community include more extensive use of stormwater and recycled water and making the most of our water supply system, including desalination.
The role of the project
The Victorian Desalination Project (VDP) is the only source of drinking water for Melbourne that does not rely on rainfall. It helps to guarantee a reliable and sustainable water supply for our city now and into the future. This means that people can continue to drink world-class water, maintain their gardens, have support in their businesses and jobs and enjoy Melbourne's famous liveability. 
The VDP was announced in 2007 during the Millennium Drought when water levels in our storages dropped to critically low levels. During the drought, levels dropped to 16.5% in the Thomson Dam, Melbourne's largest dam which is considered our bank against a drought.  
The VDP can deliver up to 150 billion litres per year of high quality drinking water. This is only enough to meet one-third of Melbourne's annual demand.
The remaining two-thirds billion litres still needs to come from water held in our storages, which highlights how important it is to keep them as full as possible. The VDP helps to do this by taking pressure off our dams during droughts and helps build a buffer for future droughts in our storages in wetter years when it is raining.
The role of desalinated water orders
The water supply system is operated to keep a buffer of water in storage, subject to cost, for maintaining supply throughout future severe droughts, which could last for more than a decade, and provide a supply to manage the impact of other extreme events like bushfires. 
Each year, a number of factors are taken into consideration when the advice around ordering desalinated water is provided to the Department of Environment, Land, Water and Planning (DEWLP) by Melbourne Water in collaboration with the Melbourne Retail Water Corporations. These include how much water will be needed throughout the year, the current levels in our storages, how much rain is expected and the cost to consumers.
The flexibility offered by desalination allows us to build a buffer by 'topping up' our storages with small, regular, orders when we need them to meet the needs of a growing population, and respond to the impacts of climate variability and climate change.
Ordering water from the desalination plant
DELWP manages the plant's contract with AquaSure, the plant's operator, on behalf of the state.
For the 2016-17 financial year, the Minister for Water announced an order of 50 billion litres of water from the VDP.
On March 19 2017 the Minister for Water announced that a minimum annual water order of 15 billion litres from the VDP will be introduced for the next three years (from 2017-18) at no additional charge to customers.
Minimum annual water orders contribute to continued water security, better plant management and more steady prices for customers.
The 2017-18 desalinated water order advice is for no extra water above the minimum annual water order of 15 billion litres in 2017-18, and non-binding forecasts of 50 billion litres (including the 15 billion litre minimum orders) for 2018-19 and 2019-20.
The advice was prepared by Melbourne Water, in collaboration with the Melbourne Retail Water Corporations, and provided to the Department of Environment, Land, Water and Planning.
Desalinated water quality
As with all our water, desalinated water meets the strict standards of the Australian Drinking Water Guidelines, Victorian Safe Drinking Water Act and World Health Organization guidelines.
We worked closely with the operators to ensure the plant produces water that meets the high standards Melburnians currently enjoy. Water quality is tested at the plant and all delivery points before the water enters our system.
How desalinated water enters the supply system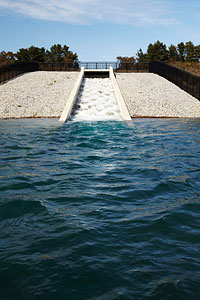 When the plant is in operation, desalinated water will flow through an 84 kilometre transfer pipeline from Wonthaggi to Berwick. At Berwick it joins our water supply network and flows on to Cardinia Reservoir, where it mixes with water from the catchments.
From Cardinia Reservoir we can transfer it to Silvan Reservoir and on to most parts of Melbourne, depending on how we operate the network. If required, offtakes on the pipeline can also deliver desalinated water to local areas in South Gippsland and Western Port.
The pipeline is two way, so even when the plant is not producing desalinated water, water from Cardinia Reservoir can flow down to local delivery points if it is needed.
Integrating the VDP
How desalinated water enables Melbourne's storages to recover in 2016/17 and how it could be used to support regional towns in the future.
For more information on water in your area contact your local water retailer:
Audio described version
How desalinated water enables Melbourne's storages to recover in 2016/17 and how it could be used to support regional towns in the future.