We developed an immersive virtual tour of the Western Treatment Plant to enable more Victorians to experience our water assets in new ways. Read the case study to learn more.
Sustainable Development Goals:
Goal 6: Clean water and sanitation
 
Background
The Western Treatment Plant has been contributing to the health and liveability of Melbourne since it first began treating sewage in the 1890s. This innovative site produces its own electricity, creates recycled water and is home to rare bird and frog species. It also has important Aboriginal and European cultural heritage values.
Tours of the plant are available to school and community groups. In response to the ongoing success of these tours, we developed an immersive virtual tour of the plant to enable more Victorians to experience our water assets in new ways.
Project focus
The interactive, self-guided tour provides information and resources to support the current tour program, as well as increase access for those unable to physically visit the plant. In doing so, it aims to increase awareness and understanding of water-related issues, encouraging advocacy and water resilience through the development of informed water citizens.
The tour provides a bird's eye view of this important Melbourne Water asset, by exploring the:
raw sewage inlet
sewage treatment lagoons
agricultural areas
outfall to Port Phillip Bay
conservation wetlands.
A variety of media – including 360-degree drone footage, video, audio and narration – offers an immersive experience that aims to entertain, engage and inspire.
Outcomes
The project also fulfils our mandated obligation to provide water literacy education, and supports key strategic directions in our Education Digital Strategy.
You may also like...
Go behind the scenes of with our virtual tour, exploring the stories, videos and panoramas that bring this fascinating site to life!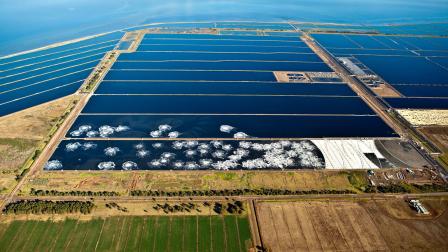 This report outlines Melbourne Water's unwavering commitment to advancing sustainability through the United Nations Sustainable Development Goals (SDGs).