​Modern and efficient sewage treatment is something that most Melburnians take for granted, but this wasn't the case for our ancestors.
Marvellous 'Smellbourne'
The discovery of gold in 1851 made Melbourne one of the richest cities on earth. With a population of about half a million people by the 1880s, it had also become Australia's biggest city.
But Melbourne was facing a big pollution problem. While it had been described by British journalists as "a city of magnificent intentions", it was also being dubbed Marvellous 'Smellbourne' because of the city's unsanitary waste disposal methods.
Open sewers
In those early days the majority of waste from homes – including kitchen, bathroom and laundry wastes, along with the contents of chamber pots – were emptied into open drains that flowed into street channels and on to local rivers and creeks. Waste from farms and industries also flowed into these street channels, turning Melbourne's rivers and creeks into open sewers.
Thunderboxes and chamber pots
Methods for disposing of human waste were also very basic. A toilet consisted of a bucket that was housed in a wooden structure known as a 'pan closet toilet' or 'thunderbox'.
The early solution was to cart human waste away to the outer fringes of Melbourne, where it was often used as fertiliser by market gardeners or taken to the tip. Thunderboxes were only emptied about once a week by a nightman, so called because he collected pans at night by reaching through a small door in the back of the closet. Because the waste stayed in the pan for up to a week, thunderboxes were really smelly.
Since walking to the thunderbox in the cold and dark of night was not very appealing, many people opted to use chamber pots at night instead. These were often emptied straight into street drains.
To make matters worse, as Melbourne's population grew the system of nightmen couldn't keep up and more and more people started disposing of their wastes directly into street drains.
Werribee Farm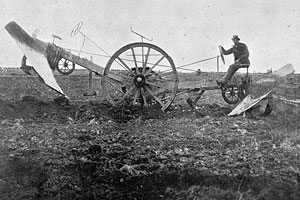 ​Concerned about the spread of disease because of the city's unhygienic waste disposal practices, the authorities carried out a Royal Commission in 1888 to come up with a solution to Melbourne's waste problems.
The answer was the construction of a sewerage system – a system of pipes, sewers and drains built underground to carry sewage from homes and factories to a sewage treatment farm.
In 1889 an English engineer, Mr James Mansergh, was employed to draw up plans for Melbourne's sewerage system. In 1891 the Melbourne and Metropolitan Board of Works (MMBW) was formed to take responsibility for both water supply and the treatment of sewage.​
Mansergh's plans were modified by the MMBW's first engineer-in-chief, Mr William Thwaites, and in May 1892 construction began on Melbourne's sewerage system. A treatment farm was built at Werribee and a pumping station was built at Spotswood (now the site of the Scienceworks Museum) to send the city's waste to Werribee. The first Melbourne homes were connected to the sewerage system in 1897.