Sewer relining and manhole rehabilitation program
Melbourne Water removes and safely treats over 320,000 million litres of sewage each year via a 400 kilometre network of underground pipes and tunnels. Much of Melbourne's world class sewerage system was constructed over 100 years ago and some sections are coming to the end of their working life.
What's happening and when
Over the next three years (2018-2021) Melbourne Water will invest over $100 million in a sewer relining and manhole rehabilitation program to upgrade 15 kilometres of ageing sewer pipes across Melbourne. 
Watch our video "Melbourne Water's Sewer Relining Program".
These works will ensure Melbourne continues to remain the world's most livable city.
Locations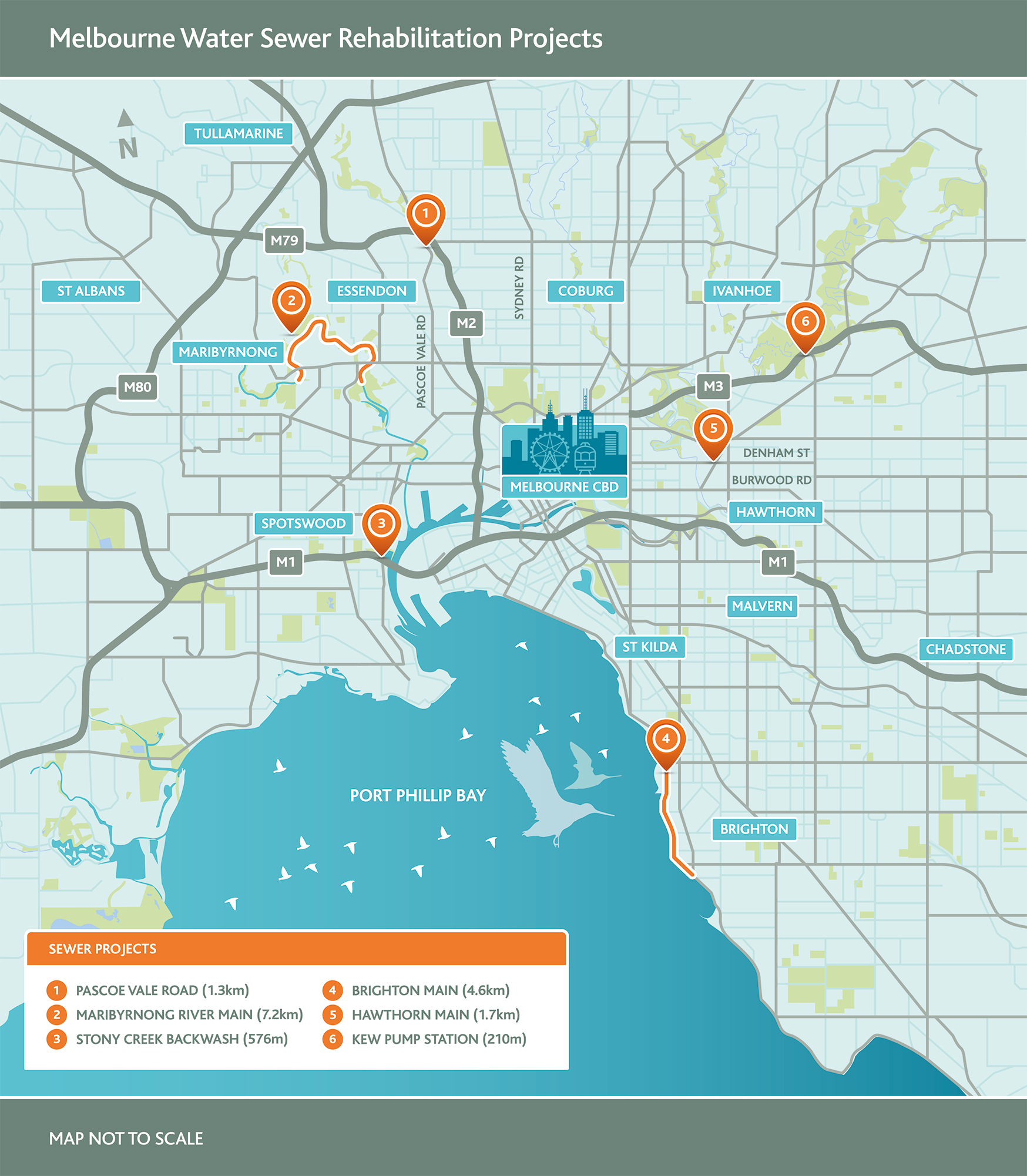 The projects tabled below will be completed as part of the sewer relining program starting in February 2018.
Impacts on local residents and visitors
We aim to minimise inconvenience where possible however we do anticipate potential impacts including:
some changes to traffic conditions for drivers and cyclists while projects are underway
detours in place from time to time
some noise, dust and odour from project works
What is sewer relining?
Sewer relining is a trenchless method of repairing ageing or damaged sewer pipes. It minimises impact on the local community as we do not need to dig up the pipe to repair it.
There are a number of sewer relining methods that can be used. The two main methodologies that may be used include spiral wound-in-place liner and cured in place pipe.
Spiral Wound in Place Liner
This involves dropping a machine down an existing manhole to coat the inside of the sewer pipe with a PVC liner. The machine moves along the sewer unwinding the liner and sticking it to the walls of the existing sewer. Once complete, grout is used to fill any gaps.
Cured in Place Pipe
This involves accessing an existing upstream manhole and running a liner from this manhole to one located downstream. The liner is then expanded to match the size of the sewer pipe and cured using UV light. The liner, once hardened, will strengthen the sewer, allowing it to provide many more years of service.
Our project teams will match the properties from each of these state of the art technologies with the needs of each project. Using either Wound in Place Liner or Cured in Place Pipe will add a minimum of 50 years to the life of these sewer assets.
What is manhole rehabilitation?
This is the repair of ageing or damaged manholes.
Rehabilitation works involve removing the existing ladders and associated items within the manhole, cleaning and removing any debris from the surface and coating the walls with a protective coating. Ladders will be reinstated once the coating is dry. This will strengthen the manholes, allowing them to provide many more years of service.
Bypass pumping
Bypass pumping will be carried out in sections of the works program.
It involves connecting a temporary above ground pipe to an upstream manhole and diverting flows to another manhole located further downstream. This makes it safe to complete works and allows local sewerage services to keep operating at all times.
The location of the bypass pumping equipment will be determined closer to the start of the works. We will keep the local community informed about the location via door knocking and the distribution of community bulletins.
Your feedback
To enquire about a sewer relining project near you: