Did you know most litter dropped on city or suburban streets ends up in our waterways through stormwater drains? Litter is a high profile and ecologically important issue impacting Melbourne's waterways and bays.
Each year, tonnes of litter makes its way from waterways to bays and oceans. As well as being unsightly and affecting amenity, litter also has devastating impacts on wildlife.
The most commonly found litter item in Victoria is cigarette butts.
The average plastic bag is used for about 12 minutes but never decomposes. It just breaks up into smaller and smaller toxic pieces.
 
Melbourne Water spends $3.3 million a year removing litter from our waterways
How you can help
Help stop litter at the source:
dispose of litter responsibly
join the Litter Action Program or a community group
track and learn about the journey of litter.
Volunteer with the Litter Action Program
Coronavirus (COVID-19) update:
We're continuing to practice COVIDSafe behaviours to help Victoria keep on top of the virus. Litter Action volunteer field activities can now resume where state health guidelines can be followed. Before starting any activity, contact your program manager for advice on program-specific safety requirements and to receive a copy of our COVID-19 Control Plan.
Training, workshops and events remain on hold until further notice – in the meantime, check out our 'Expert Connections' webinar series focusing on ecological and waterway themes.
The Litter Action Program is a three-year project that aims to target litter hot spots right across Melbourne by stopping litter at the source.
The program encourages and supports volunteer community groups to monitor litter in or around their local waterways. 
The data you collect is added to the Australian Marine Debris Database and is used to create Source Reduction Action Plans to help stop litter at the source. The more information we have about the types of litter collected, the more likely we are able to do something to stop it.
The following video features program participants from Lynbrook Primary School and Blackburn Lake Sanctuary, discussing the strategies they used to reduce litter in their local areas.
Learn about the Litter Trackers project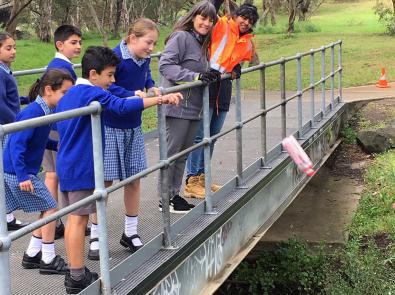 How long does it take for litter to travel through waterways and reach the bay's beaches?
We partnered with the AQUEST Research Group at RMIT on a ground-breaking project to track this flow of rubbish through our stormwater drains. From mid-2019 to early 2020, 100 GPS-tracked bottles were launched into Melbourne's waterways.
Check out the journey of these litter trackers along the Maribyrnong River, one of the four waterways included in the project.
Learn about and view further litter tracker journeys via RMIT University's website.
See 'Education resources' below for primary and secondary student activities.
Further resources
Education resources
Litter Trackers project (Years 3-6)
Litter Trackers project (Years 7-10)
Community groups to connect with
Tangaroa Blue is an Australia-wide not-for-profit dedicated to removal and prevention of marine debris.
Port Phillip EcoCentre: Your Port Phillip Baykeeper monitors the pulse of our Bay, conducting research, action and education.
Beach Patrol community groups: Join a community group to help clean the beaches of Melbourne.
Love Our Streets groups: Support the work of Beach Patrol and keep the streets of Melbourne clean.
Join the conversation
Follow @MelbourneWater on your social channels for the latest on litter: