Volunteer for our citizen science frog monitoring program, and record frog call data to help conservation efforts. It's easy and fun – and you don't have to be a frog expert!
Frogs play an important role in waterway and wetland ecosystems, and are easily affected by changes to their environment. By helping us collect far more data than otherwise possible, you'll be shaping decisions on waterway health.
Ways to get involved
You can get involved in Frog Census in a number of ways:
Go 'frogging' and record calls at a range of sites during fixed Frog Census months each year: April, August, October and November. 
Conduct a longer-term repeated survey program at a specific site, and collect data for a year or more. You could organise this with the help of community groups or schools.
Casually record and report frog calls throughout the year, whenever you hear them.
For more details on safe and effective frog monitoring, including how to set up a long-term monitoring program, download our Frog Census Handbook (1.71 MB, PDF) or watch the following video:
Frog monitoring resources
Download the app
Our Frog Census app makes it easy to record and submit frog calls while you're out and about. Your recordings and photos will be verified by professional ecologists, and added to public databases.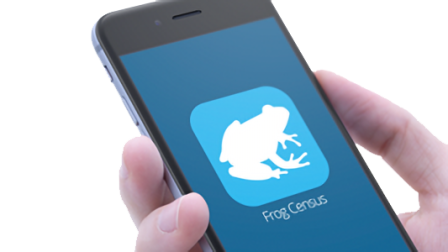 Can't download the app? Send us your recording and a copy of the Frog Census datasheet (201.57 KB, PDF).
Frogging 101 video course
New to frogging? Start with our series of six short instructional videos, and learn the fundamentals of finding and recording frogs in your local area.
Contents include:
planning a frogging trip
safety and field hygiene
finding frogs in the field
recording frog calls.
Guides to finding and identifying frogs
Download our guides for more information on locating, identifying and helping frogs:
Join the community
Connect and share updates with other Frog Census volunteers by joining our Facebook Frog Census Group.
Education resources
Our free resources, from Foundation to Years 9 and 10, contain modules explicitly linked to the Victorian Curriculum and meaningful and effective extension activities for frog conservation.
Contact us
For more information: