Westernport Estuaries Spartina removal
Spartina is a rapidly spreading introduced grass species which was first introduced into Westernport Bay to stabilise estuarine mudflats, reclaim land and prevent shoreline erosion.
Westernport Spartina Management Plan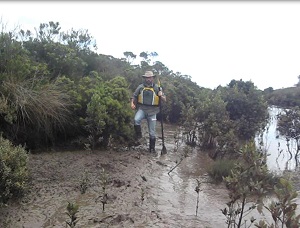 Over the past 10 years Melbourne Water and Parks Victoria have invested a significant amount of money and resources into Spartina control in Westernport, but further investment is needed to continue to control or eradicate Spartina from Westernport.
Ecology Australia was engaged to review our previous program and outcomes and to develop options for the future management of Spartina in Westernport.
There are three options:
Do nothing – stop all further investment for Spartina control.
Control – continue with the same approach as for the last 10 years.
Eradication – the complete removal of all plants.
Our preferred management approach is to aim for eradication of Spartina from Westernport within ten years starting in 2016.
We are currently surveying the area to map the location of the Spartina to enable us to target the annual Spartina control works more effectively. 
Why this project is important
Spartina, a declared noxious aquatic weed species, is now known to be a major environmental threat to estuaries, causing siltation and impacts on the biodiversity of native salt marsh and seagrass. It also affects the habitats of migratory bird species and near shore marine animals. 
A control program will help re-establish indigenous Salt Marsh which provides habitat for the Orange Bellied Parrot and other flora and fauna.
Contact us
If you have any comments or queries:
Community bulletins