We're working on new ways to use our land to benefit you, in partnership with community groups, not-for-profits, and local and state government. View some of the projects we're working on, designed to enhance life and liveability in Melbourne.
Bike trail – Carrum to Warburton
Completed: 2018
Project partners: VicRoads
We worked closely with VicRoads on the business case and design of a ten-kilometre bike path linking the pre-existing Warburton and Eastlink trails. Three kilometres of this was built on a Melbourne Water pipe track in Croydon, with the entire trail now extending 90 kilometres from Carrum to Warburton – connecting the bay to country Victoria.
This case study highlights the benefits of a whole-of-government approach to planning and funding projects like these.
Learn more about building a shared pathway on our land.
Greening the Pipeline pilot park – Williams Landing
Completed: 2017
Project partners: Wyndham City Council, City West Water, VicRoads; jointly funded by the Victorian Government and Melbourne Water
The Greening the Pipeline project aims to transform the Main Outfall Sewer Reserve, from Millers Road in Brooklyn to the Werribee River, into a natural and vibrant space that connects communities and provides a unique place to meet, play and relax.
To showcase the project's potential, a Pilot Park was built along 100 metres of the reserve. The design was informed by stakeholders and the community, and includes amenities such as:
exercise equipment
seating
a drink fountain
bike stands and lighting
trees to create habitat and shade.
A local stormwater harvesting system ensures the green space is watered sustainably, and minimises stormwater runoff into the downstream waterway.
For the latest updates and opportunities to have your say, visit the Greening the Pipeline website.
'Parktopia' event at Chain of Parks – Coburg North
Completed: 2018
Project partners: City of Moreland, Pascoe Vale North Primary School, local artists
We collaborated with City of Moreland on 'Parktopia', a community-led activation held at Linear Reserve at the northern end of the Chain of Parks – a project proposing to use our drainage land to connect several parks. The event identified future uses of the reserve for inclusion in Moreland's masterplan, and followed community co-design workshops and a collaborative arts and performance educational program.
Led by local artists (Vanessa Chapple, Kate Kantor and Tanja Beer), the program worked with schoolchildren to explore the history and cultural heritage of the reserve, and unearth their creative ideas to reimagine the wonderful but underutilised open space.
Highlights of the Parktopia event included:
a smoking ceremony for the whole community
a representation of the now underground Merlynston Creek
native vegetation likely to be present in the landscape
history told through interpretive dance and storytelling
a range of activities where children and visitors could interact with the local environment.
Community gardens – Hope City Mission
Completed: 2016
Project partners: Hope City Mission
A linear strip of above-ground garden beds were built on a pipe track corridor behind the Hope City Mission distribution centre. The Mission will use the vegetables grown to help their clients understand how to use fresh produce and prepare healthy meals, as well as supplement the 200+ kilograms of fresh produce they distribute to the community every day.
Hope City Mission's emergency relief programs provide assessment-based Foodbank, financial assistance and advocacy, and life skills workshops to those in greatest need in the eastern metropolitan suburbs.
Birdhide upgrade – Edithvale-Seaford Wetland
We've financially supported the Friends of Edithvale-Seaford Wetlands to renovate an old bird hide at the Edithvale-Seaford Wetlands. This project reinstated the Edithvale Bird Hide as a key destination in the local area for both local and international visitors interested bird watching at the site.
Murals of platypus and frogs – Diamond Creek and Williams Landing
Completed: 2018
Project partners: Local artists, Truganina South Primary School
We sponsored a mural by local students on an underpass along Diamond Creek in Eltham, helping to enhance the area's amenity and educate the public about the impacts of litter in waterways.
A similar student mural was also sponsored at Williams Landing along the Greening the Pipeline project, featuring frogs that live in the surrounding waterways.
Read more about the project: New mural unveiled as part of Frog Census program
Moonee Ponds Catchment Collaboration
Established: 2017
Project partners: Various
The Chain of Ponds Collaboration is an historic agreement to progressively improve Moonee Ponds Creek. Representatives from 18 organisations and 10 supporting partners – including government, community groups, not-for-profits, businesses and research organisations – have committed to work together to:
Transform the Moonee Ponds Creek into an iconic waterway for Melbourne that enhances its natural capital and provides high social and environmental benefits to local and wider communities.
Three projects will enable a catchment-wide approach to research, mapping and strengthening planning controls, a number of 'spin-off' successes, including:
joint ownership of a masterplan for the creek in the central part of the catchment, enabling co-delivery either side of the creek
investigating stormwater harvesting opportunities in the lower half of the catchment
preventing the loss of land to development, by highlighting the value of the creek corridor as accessible space
scoping and funding revegetation projects between collaborators
improved pedestrian access to parts of the creek bank
coordinated responses to a major infrastructure proposal, resulting in the Minister for Planning recommending that collaborators be formally involved in developing the open space projects proposed in the project.
For more information on the collaboration, visit the Chain of Ponds project page.
Living Links
Living Links is a large-scale environmental and social program with councils, government agencies and community groups working together to create a web of green spaces in Melbourne's southeast.
We're partnering with Living Links to improve connections between parks, reserves and open spaces; coasts and beaches; pathways; and rivers, creeks and wetlands – making this area a world-class urban ecosystem.
To learn more about the project or how you can get involved, visit the Living Links website.
Greening the West
Greening the West is a regional initiative to develop green spaces that enrich communities in Melbourne's west. We support Greening the West in a broad range of activities that contribute to urban greening by using land, managing waterways and adopting integrated water solutions.
For more information, visit the Greening the West website.
You may also like...
Learn how our work enhances Melbourne's liveability: making life better, healthier, safer, more enjoyable and enriching for everyone.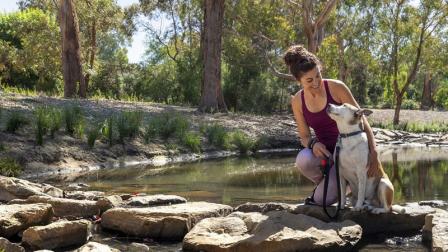 Learn how we're shading, cooling and greening Melbourne's spaces to help maintain liveability in a changing climate.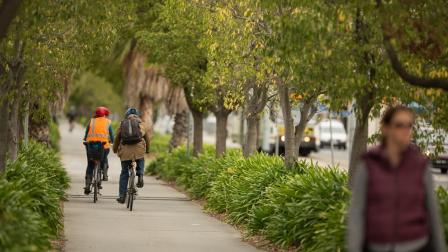 Learn about grants available to support innovation, liveability and collaboration across water management, and improve river health.