Our heatwaves are getting hotter and more frequent, with the largest impacts occurring in our cities, due to the urban heat island (UHI) effect. Find out how we're giving Melbourne shade, cooling and colour, to help offset this and make city spaces even more enjoyable for play.
Creating cool, green open spaces...
We know cities are built with concrete, stone and asphalt paved roads. But did you know these hard materials create 'heat islands' – areas of significantly hotter temperature than surrounding suburban and rural areas – which generate a range of problems for those living and working within them?
.. So it's cooler for us
A growing body of evidence is showing that we can effectively lower local temperatures by planting extra trees to create more shade. Standing under a tree in the shade can feel 10 degrees cooler than standing in the sun.
…Built up areas have a greater capacity to absorb, hold and emit the sun's heat compared to rural areas. The absorption of energy can increase day and night time temperatures in cities by several degrees. City Cooling – Mitigation of the Urban Heat Island Effect, E2Designlab 2019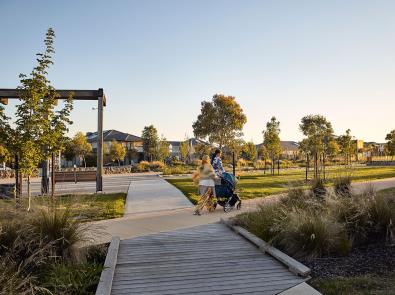 .. cooler for the environment
During heat waves, watering can make it feel cooler and supports tree health. Making the city cooler with more trees and shrubs requires a consistent water supply to ensure Melbourne's trees can withstand hotter temperatures, heat waves and drought.
Irrigated grass is also about 15 degrees cooler than dry grass and surrounding pavement and can bring night time temperatures down by one degree per hour.
.. and cooler for animals
With native animals also living in our cities, limited water and fewer trees increases the risk to them.
Vegetation and water used to cool green spaces can also provide habitat, improve amenity and help manage stormwater flows to waterways, making them healthier.
About our projects
As the manager of over 33,000 hectares of land across the Port Phillip and Westernport region, Melbourne Water is doing our part to making Melbourne cooler – and through projects like Greening the Pipeline and the Urban Cooling Program, we're planting trees to help lower temperatures on hot days.
Together with stakeholders and the community, we are working to create cooler and greener spaces so they are enjoyable for more days of the year. This will improve vegetation health and evapotranspiration, or both.
Pilot projects
Last year, we created 24 hectares of shade by planting trees along paths at Jacana and Edithvale wetlands – almost the same size as 10 MCGs.
Two pilot projects, at Jacana Wetlands in Melbourne's north and Edithvale wetlands in the city's south-east, are helping to lower local temperatures.
These sites were selected because they are close to homes, used for recreation, community education and active transport and were identified as being hot and dry in summer.
Jacana wetlands
Jacana wetlands, Gladstone Park, is a great example of how the local community helped to transform exposed parklands and a major bicycle commuter route, adjacent to a high value waterway, so that it is greener and cooler and be used by the community for more days of the year.  
Edithvale wetlands
Edithvale wetlands, Edithvale, has been transformed so that exposed parklands and walking tracks, adjacent to a high value waterway, will be greener and cooler and used by the community for more days of the year. 
This is expected to reduce the temperature by up to four degrees on hot days.

 
By 2021 we plan to deliver a further six hectares of shade trees in partnership with Maribyrnong City Council along the Lower Maribyrnong River. Stay tuned for more information.
Other greening initiatives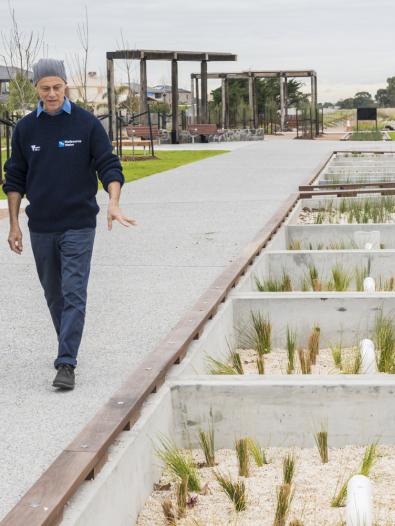 Melbourne Water is investigating long-term water demand and availability for greening and cooling given competing demands for water to ensure non-potable supply sources are planned and secured to create a greener, cooler Melbourne – critically during periods of low rainfall.
Water sensitive urban design and integrated water management principles will be vital to making our parks and gardens resilient to rising temperatures, heat waves and drought. These approaches use planning and urban design to remove pollution and chemicals from stormwater.
Simple stormwater systems can be used to water trees, sometimes doubling their growth rate, while reducing impacts to rivers. We see a strong opportunity to make urban trees more resilient to Victoria's changing climate by aligning the need to manage excess stormwater runoff and protect waterways, with the need to keep trees and green spaces healthy and thriving.
You may also like...
Greening the Pipeline
Find out how we helped transform the heritage-listed Main Outfall Sewer pipeline reserve, along the Federation Trail bike path, into a parkland to service the growing community in Melbourne's west.