Learn more about hydropower generation and how it benefits Melbourne.
Melbourne Water has a strong commitment to hydropower generation to reduce our carbon footprint by generating renewable energy. By installing hydroelectric power stations, we are generating renewable electricity which means we are harnessing a natural, sustainable and reliable source of energy, rather than letting this energy go to waste.
How it works
Water is transferred from our major storage reservoirs (at high elevations) to our smaller service reservoirs (at lower elevations) predominantly via gravity.
As the water supply pipelines approach the lower elevation reservoirs, the pressure needs to be reduced. In the past, pressure-reducing valves were used to reduce the pressure. Now we are using hydroelectric turbines to generate electricity from this energy, which is exported to Australia's electricity grid.
History of hydropower at Melbourne Water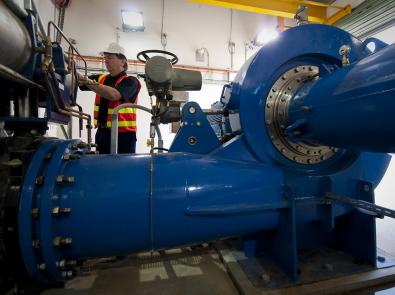 The first hydroelectric power station was installed at Cardinia Reservoir (3.5 MW) in 1984, followed by Thomson Dam (7.4 MW) in 1989 (later upgraded in 2012).
In 2004 we reviewed our water supply network and identified sites that had potential for hydroelectric generation. These sites were assessed and ranked on their ability to generate electricity, availability of the local electricity network to accept the generated power, their economic viability and the risk associated with their operation.
One of the key operational risks that needed to be overcome was that of a sudden turbine shutdown and its potential to generate pressure transients or "water hammer" in the supplying water pipeline. This risk was eliminated through innovative power station design, valving and surge mitigation devices.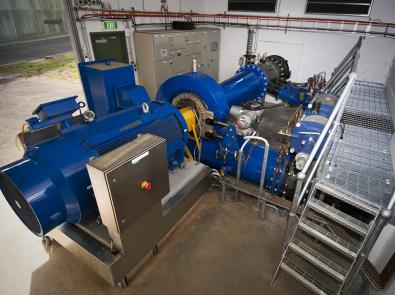 Between 2008 and 2010, six mini hydroelectric power stations were constructed throughout the water supply network.
In 2010, an energy recovery hydroelectric power station was installed on the outlet of the North-South Pipeline.
In 2016-2017, Stage 2 of mini hydroelectric power stations were installed at an additional five sites on the water supply network. The design of these power stations drew heavily on the learnings gained during construction of Stage 1 and significant advances were made in housing the units and minimising their cost of construction.
Our hydroelectric power stations
See our map showing where all our hydroelectric power stations are located: 
| ​Station location | ​Capacity (MW) | Date commissioned  | ​Status |
| --- | --- | --- | --- |
| ​Thomson | ​ 7.4 | ​1989 (upgraded in 2012) | ​Operating |
| ​Sugarloaf | ​ 4.0 | ​2010 | ​Not in operation |
| ​Cardinia | ​3.5 | ​1994 | ​Currently owned and operated by others |
| Preston | ​ 2.0 | ​ 2008 | ​Operating |
| ​Silvan | ​1.8 | ​2008 | ​Operating |
| ​Olinda | ​1.0 | ​2009 | ​Operating |
| ​Upper Yarra | ​0.90 | ​2009 | ​Operating |
| ​Mt View | ​0.56 | ​2009 | ​Operating |
| ​Notting Hill | ​ 0.40 | ​2009 | ​Operating |
| ​Dandenong | ​0.36 | ​2017 | ​Operating |
| ​Mt Waverley | ​ 0.33 | ​2017 | ​Operating |
| ​Wantirna | ​ 0.13 | ​2017 | ​Operating |
| ​Boronia | ​ 0.11 | ​2017 | ​Operating |
| ​Cardinia Creek | ​0.09 | ​2017 | ​Operating |
Our hydroelectric program
Watch our case study video on how five new mini-hydro plants were built in 2017.
Our suite of 14 hydroelectric power stations currently operating within our water supply network now generate more electricity than we need.
The mini-hydro power stations generate more than 69,500 megawatt hours of power each year via hydroelectric generation – enough to power about 14,100 homes. We are preventing over 75,800 tonnes of carbon dioxide emissions, which is equivalent to taking more than 29,200 cars off the road.
As part of our commitment to taking further action on climate change and playing our part to de-carbonise the Victorian electricity grid, we're continuing to expand our network of mini-hydro electricity plants.
Three new mini-hydro power stations will be built and commissioned at St Albans, O'Shannassy and Upper Yarra Reservoirs between 2020 and 2022.
Further information
For more information about our projects and initiatives to reduce our carbon footprint and generate more renewable energy, visit Our Path to Net Zero page, or contact us.