We manage large areas of land across Greater Melbourne for operational purposes including water supply, sewerage, drainage and biodiversity. Some of this land can also be used for community projects that enhance liveability, or for individual or commercial use.
Depending on where, why and how long you'd like to use our land, you may need to enter into a lease or licence agreement with us. Find out about potential land uses and how to apply.
What can I use land for?
Community projects
Our Space. Your Place is an initiative enabling local council and community organisations to turn our land into spaces that everyone can enjoy. Big or small, short- or long-term, we're interested in a variety of projects that support health and wellbeing. These include:
community festivals and pop-up events
playgrounds and parks
community vegetable gardens and native plantings
artwork/murals.
To find a place for your project and submit an expression of interest, use our online map .
Filming, photography and events
We accept a range of short-term use land use requests, including filming and photography, as well as:
school groups
weddings
fun runs, trail walks and cycling events
other promotional events.
Other compatible uses
We may also consider other requests that don't impact our own use of our land, such as:
small sheds, passive recreation or access to your backyard
short-term access in order to work on your property (for example, if you need to move materials or build a pool)
commercial and long-term leases of up to 5 years.
Please note we reserve the right to reject applications if the proposed land use is not compatible with our operational requirements.
Submit your application online.
Utility installation and maintenance
Organisations wishing to access our land to maintain or install utilities (including telecommunications service providers, power and water companies, VicRoads and local councils), should complete the relevant application:
Fees and conditions
All leases and licences require the tenant (you or your organisation) to hold public liability insurance to the value of $20 million. You may also need approval from other authorities, like your local council, depending on how you intend to use our land.
Fees include:
One-off administrative fee to prepare your agreement:

For community projects and short-term use, this is payable once your application is approved
For compatible uses, long-term and commercial agreements, this is included in the online application fee.

Annual rental fee for all agreements. Any lease agreement's annual rental value is subject to assessment by the Valuer General, in line with the Victorian Government Land Transactions Policy.
Legal costs may also apply, depending on the complexity of your agreement.
All land use is subject to our public safety, security and operational requirements. Your lease or licence may also include additional conditions designed to uphold government policy and statutory requirements, and balance your needs with our responsibility as land manager.
Contact us
For support with your application, contact the Property Leases and Licences team. They can help you:
identify if Melbourne Water owns the land
confirm the land is suitable for your intended use
understand the process for entering into a lease or licence agreement.
 131 722 (ask for the Property Leases and Licences team)
Response timeframes
Our timeframes for responding to your initial application are outlined below.
In addition to this, you'll need to allow at least one month to finalise your agreement, though timeframes vary depending on the complexity of your request.
| Proposed use | Timeframe (initial response) |
| --- | --- |
| Community projects | 20 business days |
| Filming, photography and events | 20 business days |
| Compatible use, long-term and commercial agreements | 6 weeks |
You may also like...
Learn about grants available to support innovation, liveability and collaboration across water management, and improve river health.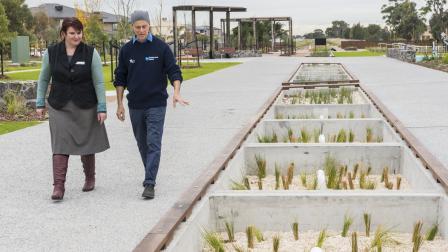 Learn how our work enhances Melbourne's liveability: making life better, healthier, safer, more enjoyable and enriching for everyone.