Go behind the scenes of the Western Treatment Plant with our virtual tour! From century-old paddocks to bubbling treatment ponds, important heritage sites to beautiful protected wetlands... explore the stories, videos and panoramas that bring the Western Treatment Plant to life!
Start the virtual tour
The tour works on all devices: smartphones, tablets and PCs. Use headphones for the best experience, and make sure you have a good internet connection and modern browser.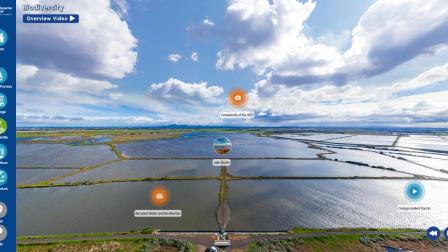 What's in the virtual tour
With a site the size of Phillip Island, our tour covers a lot of ground! Make your own way through 360-degree panoramas showcasing the plant's different facets, or sit back and relax while our hands-free guided tour provides a snapshot of the amazing places within the site.
Key topics
The sewage process:
Follow the journey of sewage from inflow into the plant; through to primary, secondary and tertiary treatment; and finally to becoming recycled water. Explore the innovations and processes behind the treatment of water, so it continues to be a valuable resource.
Heritage:
Discover more about the two different histories of the area surrounding the plant. One is ancient, and tells the story of the land's Traditional Owners, the Wadawurrung people. The second begins in 1891, when the site was established by the newly-formed Board of Works.
Biodiversity:
The site is an important sanctuary for native wildlife like the Growling Grass Frog, Pink-eared Duck and Orange-bellied Parrot. It's also a favourite spot for migratory birds that fly all the way from Siberia and Alaska. Learn how these animals and wetlands came to exist at a sewage treatment plant!
Agriculture:
Originally known as the Werribee Farm, the plant began operations by filtering sewage through paddocks sown with crops and grasses. Agriculture still plays an important role in how the site is managed – learn what sorts of agricultural practices you would find today!
The future:
Melbourne is one of the world's most liveable cities, thanks in part to Melbourne Water and the Western Treatment Plant. But with an expected population of 9 million people in 2070, a more sustainable and liveable future depends on all of us. Discover how we can help keep Melbourne liveable!
Hands-free guided tour
This 7 minute video follows one of our Education Officers on a guided journey through key areas at the Western Treatment Plant. It can also be accessed directly from the virtual tour.
Teaching and learning resources
Our Western Treatment Plant virtual tour learning resources encourage students to explore and investigate the site in more depth. Lessons are aligned to the Year 7–8 Victorian Curriculum.
You may also like...
The plant treats sewage using a series of large ponds, called lagoons - producing 40 billion litres of recycled water each year.