The North–South Pipeline, formerly known as Sugarloaf Pipeline, is a 70 kilometre pipe that can carry water from the Goulburn River to Melbourne's storages at Sugarloaf Reservoir.
It is not currently operating and will only be used to supply drinking water when storages are extremely low, or when needed for local fire fighting. The pipeline will remain part of our insurance against reaching the likes of the record low storage levels we saw in mid-2009.
Where the water comes from and goes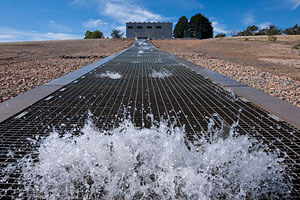 Water from Eildon Reservoir is released into the Goulburn River, where it is pumped into the pipeline and sent 70 kilometres across the Great Dividing Range to Melbourne. It then flows into Sugarloaf Reservoir where it mixes with water from the Maroondah and Yarra catchments.
All water from Sugarloaf Reservoir is treated at Winneke Water Treatment Plant to meet strict water quality guidelines. It is then fed to smaller service reservoirs which supply central, northern and western parts of Melbourne.
When the water gets used
The Victorian Government has ruled that the water stored in Lake Eildon for Melbourne can only be used in times of critical human need. This occurs when Melbourne's total water storage levels are below 30% of capacity at 30 November of any year.
We work with the state government to uphold this policy, which includes making sure the pipeline's six Country Fire Authority offtakes are always in working order for fire fighting needs. This means the pipe must remain filled with water, as it is currently, although water does not need to be actively pumped through the pipe.
Critical water reserve
The Lake Eildon allocation is known as Melbourne's 'critical water reserve', and is not included in our total water storage figure.
As at 2 June 2014 the critical water reserve totals 38,400 megalitres. We will report any changes to this volume based on advice from Goulburn Murray Water, who manage water allocations in Lake Eildon.
Boosts to our supply system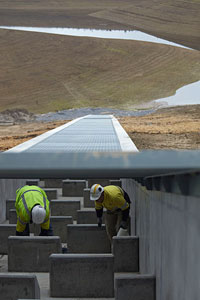 The North–South Pipeline was connected to Melbourne in February 2010. During the construction of the pipeline we also completed two important upgrades to Melbourne's water supply system:
increasing the capacity of Winneke Water Treatment Plant to handle more water entering Sugarloaf Reservoir, and upgrading filters, tanks and pumps (project cost: $50 million)

building a new pump station at Preston to distribute water from Sugarloaf, Cardinia and Yan Yean reservoirs more widely across Melbourne (project cost: $20 million)
These two projects boost the supply capacity and extend the reach of Sugarloaf Reservoir, independent of the pipeline. That means more flexibility in how we manage the system and the ability to reduce demand on other reservoirs, including Thomson.
Both project costs were part of the overall $750 million budget for the pipeline project. The pipeline was designed and built by the Sugarloaf Pipeline Alliance – made up of Melbourne Water, John Holland, SKM and GHD.