Our activities generate materials that are currently sent to landfill or stockpiled. Our philosophy is that these wastes are resources that should be minimised, reused, or recycled.
Sources of waste materials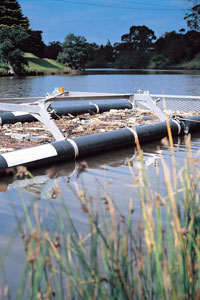 A litter trap on a river collects floating rubbish
Our waste materials come from:
sewage and water treatment plants

stormwater sediment traps and wetlands

waterways,  creeks and rivers

construction and demolition projects

office-based activities
A significant volume comes from our treatment processes and includes:
processed water

processed biosolids and sludges

processed grit and screenings

collected stormwater sediment

oils

spent air filter media
Reusing wastes
Until recently, most of our wastes were sent to landfill or, in the case of biosolids, stockpiled. We are aligning with global trends that look at ways to use waste as a resource, and in 2009-10 we reviewed our treatment processes and management practices across the business. The recommendations from the review are forming the basis of a resource recovery plan, due for completion mid-2013. This will provide us with clear direction on minimising waste and maximising reuse and recycling of materials.
Biosolids
Biosolids are the solid organic material remaining after an intense sewage treatment process. Once dry, this material has similar properties to soil and can be used for a number of purposes.
About three million cubic metres of biosolids are stored in large stockpiles at our two sewage treatment plants. We are committed to finding ways to reuse these and aim to halt stockpile growth at the Eastern Treatment Plant by 2018.
Uses for biosolids
Biosolids are made up of natural and manmade compounds and contain small amounts of household and industrial compounds, such as mineral salts, metals and organic chemicals. They have different potential uses depending on their characteristics, which vary slightly between batches and more significantly between treatment plants and over time.
We have different categories of biosolids that are suitable for:
forestry and farming – biosolids contain nutrients like nitrogen, carbon and phosphorus, and in rural areas there is a strong demand for them as fertiliser

producing energy – heating biosolids breaks down the solid organic materials, releasing gases and ash that can be captured and combusted to generate electricity

structural fill – uses requiring geotechnical properties, such as fill for road embankments
We regularly fund research into new markets and technologies that have potential to convert biosolids to enhance the value for a particular market. We are also researching opportunities to combine biosolids with other organic waste to generate building products, energy, soil products and fertilisers.
Classes of biosolids at our treatment plants
Not all biosolids can be used for all purposes. EPA Victoria regulates biosolids production, quality and usage to maximise reuse while protecting the environment and public health.
Biosolids are graded according to their:
concentration of contaminants – C1 (least contaminated), C2 or C3

treatment level – T1 (most processed), T2, T3 or T4
The Western Treatment Plant has two qualities of biosolids due to gradual improvements in the properties of sewage discharged to the plant. Biosolids include:
historic stockpiles (C3) – unsuitable for land use as they contain metals and contaminants discharged over many years by heavy industry in Melbourne's west

current biosolids production (C2) – resulting from cleaner sewage discharges in recent years, these are treated to a T1 grade and are suitable for forestry and farming
The Eastern Treatment Plant has biosolids that are mostly graded T1C2. In the past these have had high clay content that limits reuse. However, improved harvesting practices at the plant mean this is no longer the case, and current production is processed to a high enough standard to be suitable for forestry and farming.​