​It takes a lot of energy to deliver safe water, remove and treat sewage, and manage drainage and waterways across Melbourne. We're always looking for opportunities to improve our energy efficiency and generate more renewable energy from our operations.
Renewable energy
In 2015/16, Melbourne Water's water supply network has generated more electricity than it used for the third year in a row. Electricity is generated from Hydroelectric Power Stations.
Hydro-electricity
We now have 14 Hydroelectric power stations installed in our water supply network which generate up to 69,500 megawatt hours of electricity each year. These power stations generate energy from the flow and pressure of moving water, and feed it back into the electricity grid.
By operating these power stations, we can offset the equivalent of 75,800 tonnes of carbon dioxide emissions each year – equivalent to the emissions of over 14,000 homes.
Biogas – converting sewage into energy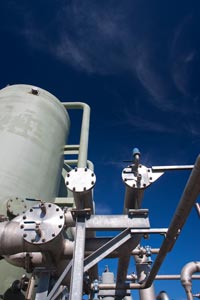 Biogas fired power plant at the Western Treatment Plant
Sewage is much more than a waste product. We can generate electricity by combusting biogas, which is captured under covers that are placed over our sewage treatment lagoons.
The Western Treatment Plant uses biogas to meet nearly all of its electricity needs. It generates 71,500 megawatt hours of renewable electricity every year, which prevents 87,000 tonnes of carbon dioxide from being emitted through the burning of fossil fuels. Sometimes the plant produces more energy than it uses, so this excess electricity is exported to the electricity grid to offset usage at our other sites.
The Eastern Treatment Plant uses biogas to power a substantial part of its electricity usage, and most of its heating and cooling. The plant's seven generators can run solely on biogas or be supplemented by natural gas as needed.
Energy efficiency
Energy use is one of our biggest sources of greenhouse gas emissions. Finding opportunities to improve energy efficiency will reduce our energy consumption.
We've already made many improvements, with:
over 95% of our electricity use audited
plant energy baselines established via improved monitoring
over 100 energy efficiency opportunities identified
annual energy savings of over $1.4 million identified, with more than $700,000 in total potential savings implemented
In 2013 we developed an Energy Productivity Plan, which has a number of focus areas to improve energy efficiency. These include:
resourcing, governance and alternate funding sources
Energy Efficiency Opportunities program participation
energy performance auditing, monitoring, measuring and analysis
benchmarking energy performance internally and externally against others
optimising processes and assets via mathematical modelling
efficient design of processes and assets
renewable energy generation
training, awareness and communications
Energy Efficiency Opportunities program
The Australian Government's Energy Efficiency Opportunities program encourages large energy-using businesses to improve their energy efficiency.
We are required to participate in the program as we use more than 0.5 petajoules of energy each year – equal to 139 gigawatt hours, 21,500 tonnes of black coal or 15 million litres of petrol. This requires us to identify, evaluate and publicly report on cost-effective energy saving opportunities.​​​​​