Upper Stony Creek transformation
Government and industry are partnering in a joint venture to revitalise a stretch of the Upper Stony Creek, for Sunshine North residents to enjoy for years to come.
Project background
The Upper Stony Creek Transformation Project was established in 2016 with the aim of transforming a 1.2 kilometre stretch of Upper Stony Creek (between Furlong Road and Gilmour Road in Sunshine North) from a concrete drainage channel to a natural, revegetated creek.  
The project also aimed to create a new stormwater harvesting wetland and irrigation system surrounded by community parklands and three kilometres of walking and riding trails.
Project partners include:
Melbourne Water 
Brimbank City Council 
City West Water 
Greenfleet Australia
Department of Environment, Land, Water and Planning 
Development Victoria  
Project funding and support have been sourced from all partners, and the project is also supported by a grant from the Commonwealth Government's National Stronger Region's Fund.
Construction works paused 
In July 2018 significant deposits of asbestos were found on site. The remediation of the asbestos became the priority of the project partners but has significantly impacted on the total budget required to deliver this project. The entire wetland site and southern 400 metres of channel have been remediated for asbestos.
Works were suspended in July 2019 to investigate further funding opportunities to realise the original vision to transform the area.
What's happening and when?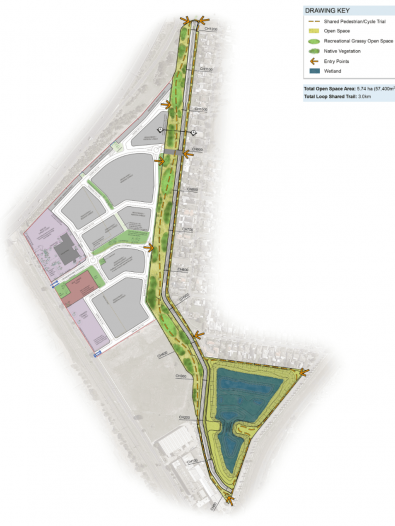 Whilst we cannot complete the project as originally planned, we will leave the creek better than before! Works resumed on the site in November to complete the wetland including planting and shared paths, since this area of the site has been remediated of asbestos.
We also plan to revegetate the northern 800-metre section of the channel (Furlong Road end) to improve natural habitat and amenity, once we have installed a mesh barrier topped with clean top-soil to 'cap' the asbestos below ground.
We already have some ideas for the area such as:
creating an area for relaxation and reflection
linking with shared path networks that integrate with existing nearby open space
revegetation of the area with native plants and trees. 
The aim is to have open up the entire site for public access, providing 5.7 hectares of public open space.
Local residents are invited to contribute their ideas for improvement that will complement the passive recreational values of the space.
Timelines 
Construction: November 2019 to June 2020
Planting and landscaping: June 2020 to October 2020
Impacts on the community
Like any major project, there are impacts associated with the works. We are aiming to manage these impacts as much as practicable.
The site will be closed to the public until works are completed.
There will be increased noise and activity from works in the area. 
We are not expecting any impacts on traffic.
More information
Your feedback
Contact us with any feedback or queries on: