An innovative delivery approach has facilitated the application of cutting-edge sewage treatment technology and design, which will benefit both the community and the environment. Read the case study to learn more.
Sustainable Development Goals:
Goal 6: Clean water and sanitation
Goal 9: Industry, innovation and infrastructure
Goal 13: Climate action
Background
With rapid population growth comes increases in sewage flows and loads to the Western Treatment Plant. This impacts the plant's existing ability to meet regulatory obligations around discharge of treated effluent to Port Philip Bay. 
It has therefore been important to find a way to improve treatment capacity that maintains an appropriate quality of effluent discharged, and thus protects the bay's environmental and recreational values while still ensuring customer affordability.
Project focus
The innovative 160S Nutrient Removal Plant (160S NRP) was constructed in 2018/19, and has seen a vital improvement in the sewage treatment process at the Western Treatment Plant. But the journey to reach this goal was no less innovative – including an atypical procurement strategy and the application of cutting-edge global technologies and design.
The project was divided into two phases:
Design development
The first phase, design development, saw three teams work closely with us from September 2014 to May 2016 to test designs informed by benchscale testing or pilot/demonstration plant trials and computer modelling.
Three processes were shortlisted:
aerobic granular sludge process (Nereda®)
hybrid mixed liquor/fixed film process (Organica Food Chain Reactor)
step-feed process incorporating advanced control.
This testing phase was critical to reduce risk from the use of new treatment technologies, for both Melbourne Water and the consortium chosen to design and build the plant.
Detailed design and construction
The outcome of the first phase informed the subsequent detailed design and construction phase of the 160S NRP, which was built with the latest advanced monitoring and control systems.
The new plant incorporates sustainable design principles, including a smaller footprint and combined circular reactors and clarifiers, which have reduced the amount of concrete and steel normally required in a 'conventional' separate rectangular bioreactor and clarifier, typical of most treatment plants.
Outcomes
The new plant is capable of treating up to 140 megalitres of wastewater per day (equivalent to 56 Olympic-sized swimming pools), and is more energy efficient than the current plant and future benchmarks established by Water Services Association of Australia.
While the delivery approach facilitated a bespoke, cost-effective design and delivered the lowest capital and whole-of-life cost solution, the project overall is an example of cutting-edge technology and design that will benefit both the community and the environment.
You may also like...
Case study: a two-and-a-half year trial of shortcut nitrogen removal has shown potential to transform the way we treat wastewater, while saving costs.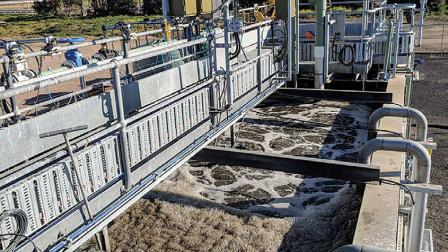 This report outlines Melbourne Water's unwavering commitment to advancing sustainability through the United Nations Sustainable Development Goals (SDGs).