We're working with leading universities to develop a new, evidence-based operating protocol for our Western Treatment Plant's anaerobic lagoons, in order to manage sludge and optimise biogas production. Read the case study to learn more.
Sustainable Development Goals:
Goal 6: Clean water and sanitation
Goal 13: Climate action
Background
Our Western Treatment Plant operates some of the largest anaerobic lagoons (ALs) in the world.
What are anaerobic lagoons (ALs)?
ALs remove most of the organics from the wastewater, produce renewable energy in the form of methane-rich biogas and are used across Australia and internationally as a relatively cheap form of wastewater, sludge or manure treatment.
Many lagoons have covers which capture biogas that can then be used for energy production. The lagoons require no external heating source, as the treatment process occurs at ambient temperatures and generally produces biogas with a higher percentage of methane compared to conventional mesophilic anaerobic digesters.
The effectiveness of this AL treatment process, however, can be impacted by the accumulation of scum and sludge under the floating covers, which creates stresses and can lead to damage.
Research focus
Despite ALs being widely used, knowledge regarding biological dynamics and solids behaviour is limited and has led to uncertainty regarding appropriate sludge and solids management strategies.
Melbourne Water is working with the University of Queensland, University of Melbourne and RMIT to develop a new, evidence-based operating protocol for the ALs to manage sludge and optimise biogas production. For the past three years, a pilot plant with a large glass window has been operating onsite at the Western Treatment Plant, allowing us to see and understand the sludge dynamics in a way not possible in the large lagoons.
Outcomes
Ongoing testing of the pilot plant feed, sludge and effluent has facilitated the development of a biochemical-hydrodynamic model of the pilot plant and the full-scale lagoons. The model utilises computational fluid dynamics and will shed new light on the operation, including how to manage the solids and optimise biogas production.
You may also like...
We're taking action on climate change, pledging to halve our emissions by 2025 and reduce them to net zero by 2030.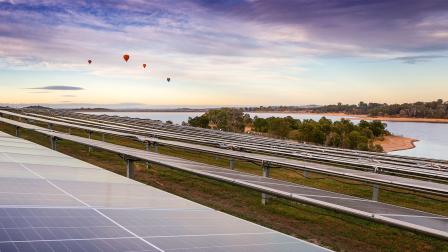 This report outlines Melbourne Water's unwavering commitment to advancing sustainability through the United Nations Sustainable Development Goals (SDGs).