The Healthy Waterways Strategy 2018-28 sets a long-term vision for managing the health of rivers, wetlands and estuaries in the Port Phillip and Westernport region, in order to protect and improve their value to the community.
The strategy is shared across Melbourne Water, state and local government, water corporations and the community, who have all voiced their commitment to achieving this together.
Learn more about the strategy or download it on this page.
Strategy vision and goals
The Healthy Waterways Strategy is driven by a single regional 50-year vision:
Healthy and valued waterways are integrated with the broader landscape, and enhance life and liveability. Waterways connect diverse and thriving communities of plants and animals; provide amenity to urban and rural areas, and engage communities with their environment; and are managed sustainably to enhance environmental, economic, social and cultural values.
The strategy brings together scientific and stakeholder knowledge in a single, comprehensive framework for the region's five major catchments: Werribee, Maribyrnong, Yarra, Dandenong and Westernport. For each catchment, it outlines:
a vision
goals
long-term targets (10 to 50 years) 
ten-year performance objectives. 
These objectives and targets are aligned and prioritised to contribute to the best waterway outcomes for effort and investment across the region.
Download the strategy
Co-designed catchment programs
The strategy is supported by co-designed programs for each of the region's five catchments. These provide a flexible framework for managing waterways, and are reviewed and updated over the life of the strategy to reflect changes in condition and progress of works, and to adapt to emerging opportunities or challenges.
The programs can be downloaded below:
Reporting on progress
We develop an annual report card showing progress towards the strategy's short-term targets (performance objectives), as well as the current state of waterways and their key values. This information is made available via our interactive website:
You may also like...
View our five-year investment plan for our waterways and drainage services, and see how we're progressing on our commitments.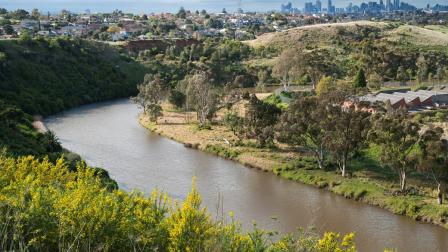 Understand the key values and conditions we use to track the health of our rivers, creeks and wetlands, and how we test water quality.