The Flood Management Strategy sets the direction for flood management in the Port Phillip and Westernport region. It outlines how agencies will work together to plan, avoid and reduce flood risks while supporting emergency preparation and response.
The strategy is currently being refreshed for 2021 – learn more about the work underway or download the current strategy.
Refreshing the strategy
Melbourne Water is leading the refresh of the Flood Management Strategy, which will be completed in late 2020 to align with our 2021–26 pricing period. The refreshed strategy takes effect in mid-2021 when the current strategy expires. An implementation plan will be executed by partners with flood management responsibilities.
The strategy refresh will create a guiding framework that drives relevant regional approaches to flood management for organisations that have flood management responsibilities.
It will set out:
a vision for flood management across Port Phillip and Westernport
how we will work to understand, avoid and reduce flood risks
how we can support flood emergency preparation and response

.
Working collaboratively across the region
As the region's floodplain manager, our role is to coordinate the development and delivery of the strategy as required by the Victorian Government's Floodplain Management Strategy. The refresh will continue to be a regional, multi-agency strategy, recognising the number of partners involved in delivering Melbourne's flood and drainage services.
We will:
Consult widely with a broad range of partners, to ensure the refreshed strategy is relevant and representative of a collective approach to flood management.
Seek endorsement on the final strategy from our Board of Directors, the Department of Environment, Land, Water and Planning, the 38 councils in our region and relevant flood management agencies.
We are working together with the following project partners:
local and state government agencies
emergency services
insurance and private sector with flood management responsibilities
organisations who represent their community.
A series of consultation workshops with these partners was held in 2019 to collaborate on and develop the refreshed strategy.
Why the strategy is important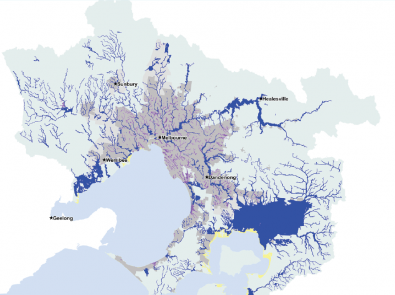 Floods are a natural occurrence in the Port Phillip and Westernport region. However, climate change, sea level rise and urban densification are increasing flood risk, and we all need to work together with the community to reduce the impacts.
Despite an overall decrease in rainfall, climate scientists are projecting:
more frequent and severe floods
more intense rainfall events
continued sea level rise.
We can't stop floods happening, but we can plan for and manage the risk, and reduce the consequences. The strategy refresh will build on past successes and strengthen our current direction. With collaboration with our partners, we can respond to these fast-evolving challenges.
For further details on the strategy refresh:
Download the current strategy
While the refresh takes place, the current Flood Management Strategy will continue to be implemented with our partners and be overseen by a multi-agency senior leadership committee. Download a copy now:
Contact
For more information, email [email protected]