Williamstown main sewer rehabilitation project
We are upgrading the existing 100 year old sewer that runs between Pasco Street, Williamstown and Scienceworks to ensure the Williamstown, Newport and Spotswood communities continue to receive a reliable sewerage service for the next 50 years.
Keeping you informed
Project update - March 2018
Major works on the Williamstown main sewer rehabilitation project will continue throughout the month of March.
Partial Closure of Ferguson Street
Melbourne Water will be working day and night from 7am Thursday 1 March until 6pm Thursday 29 March to reline the Williamstown Main Sewer beneath Ferguson Street Williamstown. 
To get this work done Ferguson Street will be closed to eastbound traffic between James Street and The Strand.
Part of the roundabout at the intersection of Nelson Place/The Strand and Ferguson Street will also be closed. A local detours map below is available to help plan your travel.
Local detours in place will include:
traffic traveling east along Ferguson Street will be detoured left along MacLean Street, towards Stevedore Street
traffic traveling north along Nelson Place will be detoured left along Ferguson Street, right at Douglas Parade and right again at Stevedore Street
Pedestrian access to Ferguson Street will be maintained in both directions.
Bus services impacted include:
route 471 will be detoured via right into Cecil Street, left into Pasco Street, right into Nelson Place then normal route to the Williamstown Beach Terminus. Normal services remain to Sunshine. 
route 415 will be detoured via Melbourne Road, left into Pasco Street then left into Nelson Place to resume normal service on Ferguson Street westbound to Sunshine. 
Closed stops for route 415 include:
Bus Stop 7180 Coxs Garden & Ferguson Street
Bus Stop 15730 Richard Street & Ferguson Street
Bus Stop 7181 Nelson Place & Ferguson Street (Set down only for 415)
Limited parking will remain in the centre of Ferguson Street and adjacent to the westbound lane.
There will be signage and traffic controllers to ensure people are able to safely navigate the work area. The speed limit in the vicinity of the works will be 40km/hour. 
People traveling through the area are urged to follow traffic management and detour signs and the directions of traffic controllers. Please allow additional travel time.
Partial Ferguson Street closure detours during March 2018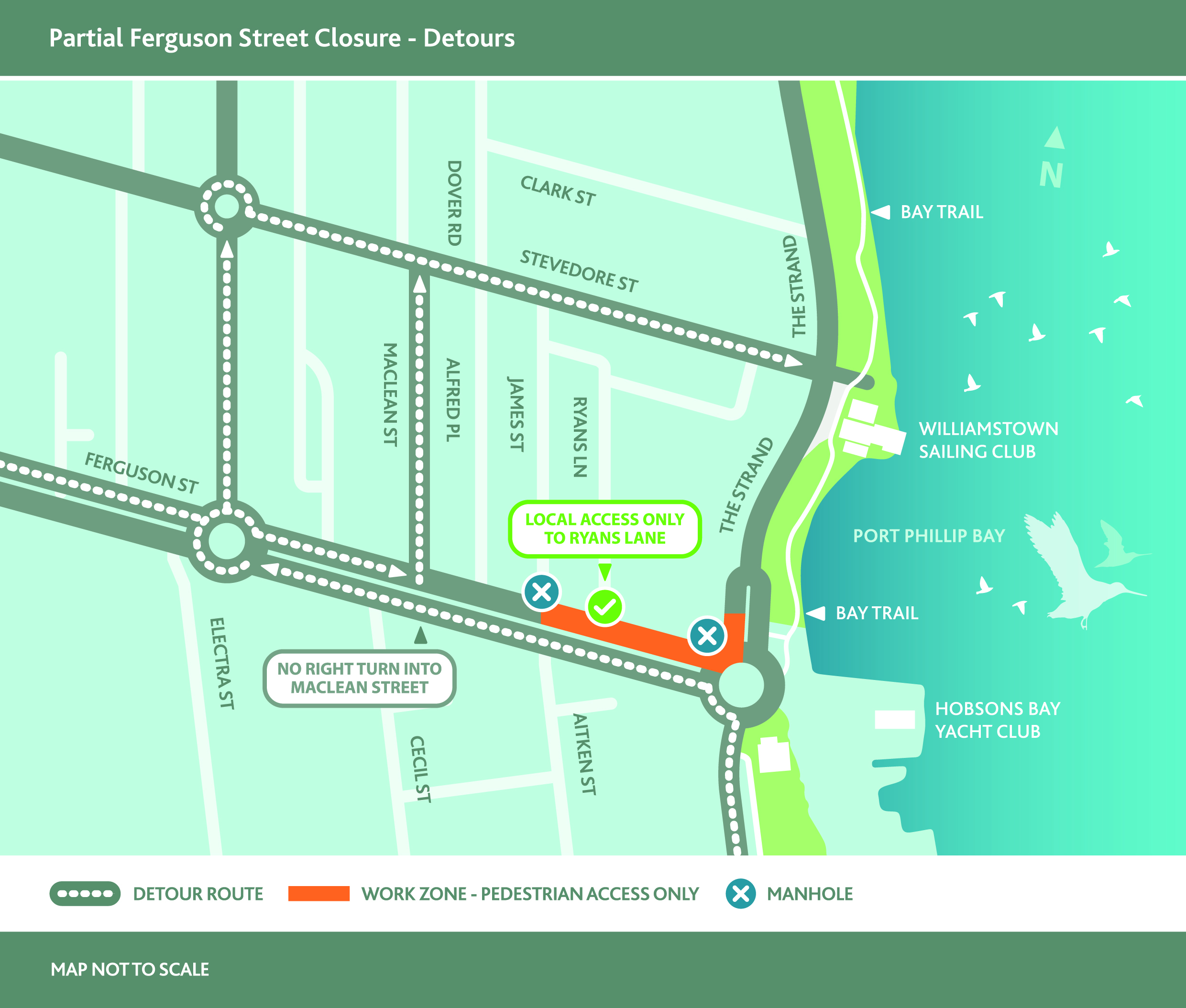 Other works
Project team members will continue to visit each manhole multiple times to complete vital sewer relining and manhole rehabilitation works. These works involve:
cleaning the sewer
demolishing and rehabilitating the bases of some manholes
relining the sewer by inserting a new pipe into the existing sewer main and manholes
filling the gap between the existing sewer and new sewer with cement
reinstatement around the manhole and installing new equipment inside the manhole
Working hours for March 2018 continue to be 24 hours a day, Sunday 9pm through to Friday 6pm. We will notify you of any works outside of these hours.
During the month of March, you can expect:
site set-up – partial closure of Ferguson Street between James Street and The Strand, eastbound lane only
detour at the Nelson Place/The Stand roundabout northbound from early March
multiple visits to each manhole along the 4.4 kilometre alignment
some odour when the manhole is first opened
some vibration during the demolition of the manhole base and slip-lining - these works will take place inside the sewer beneath the road
some noise from the movement of trucks, machinery and reversing beepers
temporary changes to parking and traffic conditions - please follow traffic management staff and signage
lane and temporary road closures, as well as reduced speed limits near work areas
pedestrian access around the works to be maintained at all times
We will continue to keep local residents and businesses regularly informed about the works through letters, newsletters, door knocks and web updates.
What is happening
Inspections of the Williamstown main sewer revealed it is in poor condition and needs to be upgraded. The project is improving the condition of the sewer by rehabilitating the existing sewer pipe and associated manholes.
Works involve:
relining the existing 4.4 kilometre Williamstown main sewer using trenchless technology
rehabilitating the associated manholes along the alignment
reinstating affected areas as close as possible to pre-existing condition
The majority of the works will take place around the existing manhole locations.
Work started in early 2017 and will take approximately 18 months to complete, weather permitting.
Where it is happening
The Williamstown main sewer runs under local streets between Pasco Street, Williamstown and Scienceworks in Spotswood. The map below shows the project alignment.  
Timings
Project stages
Stage
Estimated timing
Description
Site investigations
October to December 2016
​Inspecting existing manholes and identifying existing underground and overhead services
Site mobilisation
Early 2017
​Equipment and machinery will be delivered to the project area
Relining and manhole works
Late 2017 to mid 2018
Pipe relining and manhole works will start 
Multiple sites may be set up if they allow us to complete the works more quickly and efficiently
Reinstatement
Mid 2018 to late 2018
Restoring any areas affected by our works to their original or similar condition 
Impacts to the community
Like any major project, there are impacts associated with the sewer rehabilitation works. We are working closely with the local community to manage these impacts as much as practicable.
As majority of the manholes are located in residential streets you can expect some temporary changes to local traffic, parking and access conditions. A traffic management plan is prepared in consultation with Council to manage these impacts. We are also notifying residents and businesses in advance of the expected changes.
There is some noise and odour associated with the relining works. We are working closely with our appointed contractor to minimise these impacts, especially when working at night.
We do not anticipate any impacts to your water or sewerage services during the works. 
Your feedback
Contact us with any feedback or queries on:
Community bulletins