Melbourne Water manages over 450 wetlands, including natural and constructed wetlands. Wetlands naturally treat stormwater before it enters our creeks, rivers and bays.
The Wetland upgrade program will improve the stormwater treatment performance of a number of our existing constructed wetlands.
Background
To meet the State Environment Protection Policy objectives, Melbourne Water has a target to remove nitrogen from distributed sources, including waterways in the Port Phillip catchment.
To meet this target, Melbourne Water has constructed a number of wetlands to provide a natural way to remove nitrogen and pollutants from stormwater before it enters local waterways.
Recent inspections have shown that a number of our constructed wetlands are in less than optimal condition for stormwater treatment and need to be upgraded to improve their performance.
The Wetland upgrade program will initially involve upgrading three existing constructed wetlands.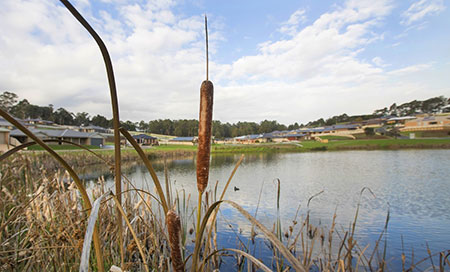 Constructed Wetland at Fallingwater Estate
Projects
The program includes the following projects:
Your feedback
Contact us with any feedback or queries on: