West Footscray to Yarraville water main renewal (M102)
Melbourne Water is renewing the last two kilometre section of the M102 water main. To secure a reliable water supply for the growing suburbs in western Melbourne these essential works are being delivered between Paramount Road, West Footscray and Williamstown Road in Yarraville.
Project update
Work to replace the 80 year old M102 water main continues with pipe laying activity now more than 75 per cent complete and progressing well through Yarraville.
Construction work
During continued works on Somerville Road one lane is being maintained in each direction to allow both east and westbound traffic to continue to flow through the area. All traffic is directed to use the northern side of the road with speeds reduced to 40km/h past the work zone.
To ensure safety is maintained for motorists and project workers, concrete barriers will continue to be placed along the centre of Somerville Road for approximately 200 metres helping to separate passing vehicles from the works. 
While works are underway behind the concrete barriers, access to private driveways will be limited but the project team is working with local residents to provide as much access before and after the trenching works. Restrictions are also in place, controlling how vehicles enter and exit side streets along Somerville Road. Motorists are advised to take caution, and to follow traffic management signage and traffic controllers when navigating their way past the work zone.
The project team is providing regular updates to residents directly affected by the works, and continues to work with businesses in the area about project works. Please be aware that Somerville Road businesses continue to operate during our project works.
To enable the continued flow of vehicle traffic in both directions, on-street parking on the northern side of Somerville Road has been removed and cycle lanes detoured to the north and south of Somerville Road. Working with Bicycle Network, the project team has developed alternative cycle routes – these are highlighted in the map below.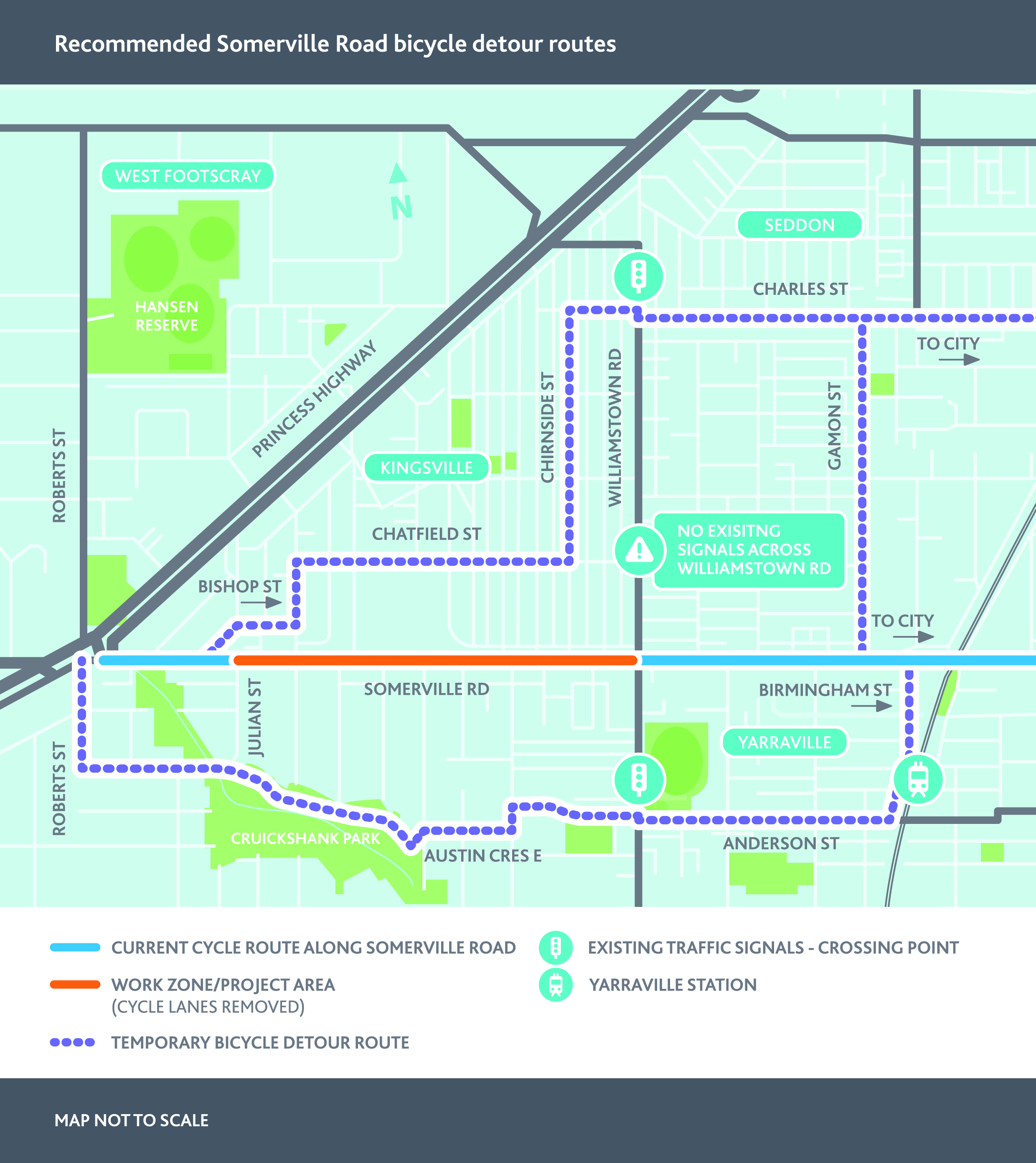 What's happening and when
Work to renew the M102 water main involves:
constructing a new 900mm diameter water main through approximately two kilometres of local streets and major roads between Paramount Road, West Footscray and Williamstown Road, Yarraville

reinstating the area as close as possible to pre-construction condition

decommissioning the existing 80 year old M102 water main that runs under Somerville Road.
Timeline
Stage
Estimated timing
Description
Site investigations

Early 2017 to mid 2017

Locating underground services
Understanding ground conditions
Procurement
Late 2017
Project is put to tender
Preferred construction partner chosen
Site mobilisation
May 2018
Set-up of site offices
Machinery and equipment delivered to site
Construction starts
July 2018
Main construction activity to renew M102 Water Main

Pipe construction complete (inc. connections & decommissioning)

Mid 2019

Laying of new pipes completed along the new alignment. 
Connect renewed M102 water main into the wider system.
Decommissioning of existing M102
Construction complete
Mid 2019 to late 2019
Project completion
Final reinstatement of project and surrounding infrastructure
Impacts on local residents and visitors
Like any major project, there will be impacts associated with the renewal of the M102 water main. We are working closely with Maribyrnong City Council, VicRoads, local businesses and residents, schools and user groups, as well as other projects in the area to manage these impacts.
A Dig, Lay, Bury methodology and reinstatement will take place progressively as the pipes are installed. This process involves:
Dig – A trench is dug along the alignment where the new water main pipe is to be installed. When digging, the project needs to be aware of existing utility services ensuring care is taken not to damage these. Once the trench is dug, it is made safe to start laying pipes.
Lay – New pipe is laid into a trench using expert lifting equipment, and sections are welded together to ensure there are no leaks. Any additional connection works to existing services may also take place at this stage.
Bury – The last stage in the installation process is to cover the new pipe by filling in the trench with appropriate rock, soil and asphalt. This also ensure that the ground level conditions are made safe for all vehicle traffic and pedestrians. 
The work area is continuously moving so that works are only at any one location for a short period of time before shifting to the next section. Works are taking place along major roads and residential streets. Some temporary changes to traffic conditions, parking, access and bicycle routes do apply (see map above).
Comprehensive Traffic Management Plans are in place to help manage these impacts, and we will notify residents and businesses in advance of the expected changes.
Melbourne Water is also working with the West Gate Tunnel project team to ensure coordination across projects, especially when it comes to traffic impacts.
Some noise, dust and vibration associated with the construction works can be expected. We continue to work closely with our appointed contractor to minimise these impacts, especially when working in residential streets. Engagement with residents and businesses commenced in December 2016 and will continue throughout the project to help manage any potential impacts.
The majority of works on the M102 water main project take place from Monday to Friday between 7am and 6pm, and on Saturday between 7am and 1pm (when required). Outside of these times, quiet activities such as cleaning-up or office duties are undertaken. Melbourne Water and the project team thank you for your continued patience as we carry out this essential upgrade work to help secure water supplies for years to come.
Why is this project important?
The current M102 water main has been in operation for over 80 years and is a critical part of Melbourne's water supply network, supplying the areas of Footscray, Altona and Werribee.
Inspections of the existing water main have revealed that the pipeline is at the end of its operational life and needs to be upgraded to meet Melbourne Water's service standards. When completed, the new M102 will also secure a reliable water supply for the growing west of Melbourne.
To date, we have completed three separate projects to renew 13 kilometres of the 15 kilometre M102 pipeline. The West Footscray to Yarraville Water Main Renewal project involves the renewal of the last two kilometres of this pipeline between Paramount Road, West Footscray and Williamstown Road, Yarraville.
Keeping you informed
Throughout the works, the project team will continue to keep local residents and businesses informed about progress through letters, newsletters, localised bulletins, works notifications, door knocks, web updates and social media posts.
Your feedback
If you have any questions or want to learn more about this project, please get in touch.