West Footscray to Yarraville water main renewal (M102)
Melbourne Water is renewing the last two kilometre section of the M102 water main between Paramount Road, West Footscray and Williamstown Road, Yarraville to secure a reliable water supply for the growing suburbs in western Melbourne.
Project update - June 2018
Work starting soon
Construction works will being early July 2018 and will take approximately 12 months to complete, weather permitting.
Works to lay the new pipeline should be completed February 2019, with crews to carry-out connection and decommissioning works from March 2019. This work is expected to take two months to complete.
Melbourne Water is committed to enhancing life and liveability in the local community, and we will work hard to ensure you're kept up to date with what we're doing. Regular community updates will be provided during construction so you know how work is progressing and when we'll be in your area.
Notification of area specific information will include temporary changes to traffic, driveway access, restrictions to on-street parking and how rubbish collection may be affected.
The water main renewal work will be carried out in three project locations (see map below):
Section 1: Starting at the intersection of Paramount Road and Somerville Road, works will move east along Somerville Road, turning into Kororoit Street, crossing Geelong Road and finishing at the corner of Angliss Street and Kidman Street. These works will begin early July 2018.
Section 2: From the intersection of Angliss Street and Kidman Street, works will continue east along Kidman Street, across Roberts Street and into Charlotte Street. Moving through Cruickshank Park and across Stony Creek, construction will then travel north along Julian Street and finish at the Somerville Road intersection. These works will begin late September 2018.
Section 3: Beginning at Julian Street, works will progress east along Somerville Road to Queensville Street. Some construction is also planned near Severn Street to connect with other water mains. Works will start from January 2019.
 
Melbourne Water is working with John Holland-KBR Joint Venture (JH-KBR JV) as its construction partner to deliver the West Footscray to Yarraville Water Main (M102) Renewal Project. The JH-KBR JV project team has extensive experience in delivering major pipeline renewal projects for Melbourne Water, including the previous stages of the new M102 Water Main from Essendon to West Footscray in recent years.
 
What's happening and when
Work to renew the M102 water main will involve:
constructing a new 900mm diameter water main through approximately two kilometres of local streets between Paramount Road, West Footscray and Williamstown Road, Yarraville
reinstating the area as close as possible to pre-construction condition
decommissioning the existing 80 year old M102 water main that runs under Somerville Road.
Construction works will start in July 2018 and the whole project will take approximately 12 months to complete, weather permitting.
Timeline
Stage
Estimated timing
Description
Site investigations

Early 2017 to mid 2017

Locating underground services
Understanding ground conditions
Procurement
Late 2017
Project is put to tender
Preferred construction partner chosen
Site mobilisation
May 2018
Set-up of site offices
Machinery and equipment delivered to site
Construction starts
July 2018
main construction activity to renew M102 Water Main
Pipe construction complete
February 2018
Laying of new pipes completed along alignment - ready for connections to other water main infrastructure
Connections and decommissioning
March 2019 to May 2019

Construction activity to connect renewed M102 water main into the wider system
Decommissioning of existing M102

Construction complete
Mid 2019
Project completion
Final reinstatement of project and surrounding infrastructure
Impacts on local residents and visitors
Like any major project, there will be impacts associated with the renewal of the M102 water main. We are working closely with Maribyrnong City Council, VicRoads and the local community to manage these impacts.
A Dig, Lay, Bury methodology and reinstatement will take place progressively as the pipes are installed. The work area will continuously move so that works will only be at any one location for a short period of time before moving on to the next section.
Works will take place along major roads and residential streets. There will be some temporary changes to traffic conditions, parking, access and bicycle routes (see map below).
Comprehensive Traffic Management Plans will be implemented to manage these impacts, and we will notify residents and businesses in advance of the expected changes. Melbourne Water is also working with the West Gate Tunnel project team to ensure coordination across projects, especially when it comes to traffic impacts.
There will be some noise, dust and vibration associated with the construction works. We will continue to work closely with our appointed contractor to minimise these impacts, especially when working in residential streets. Engagement with residents and businesses commenced in December 2016 and will continue throughout the project to help manage any potential impacts.
During construction the majority of works will take place from Monday to Friday between 7am and 6pm, and on Saturday between 7am and 1pm (when required). Outside of these times, quiet activities such as cleaning-up or office duties will be undertaken.
Melbourne Water and the project team thank you in advance for your patience as we carry out this essential upgrade work to help secure water supplies for years to come.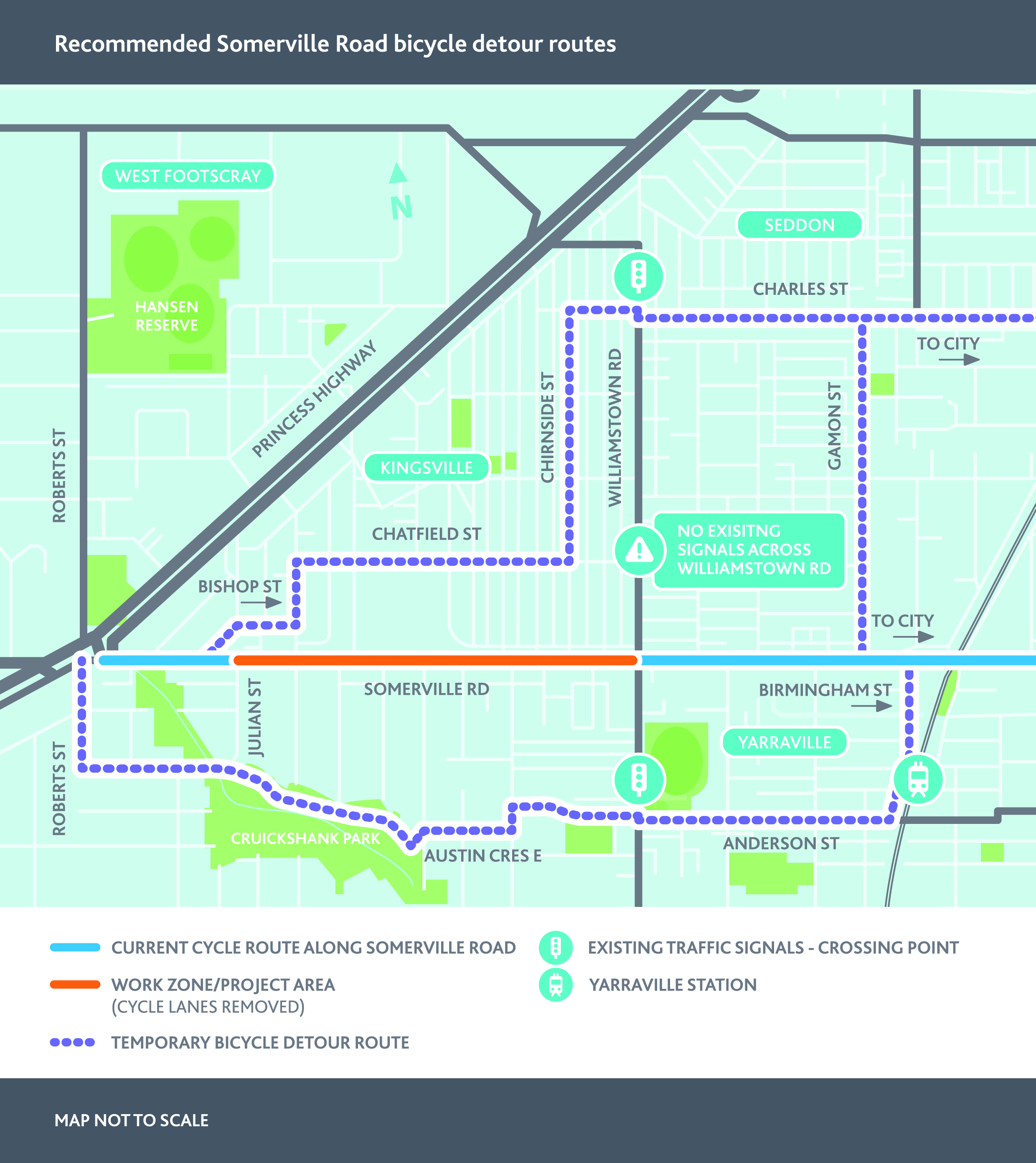 Why this project is important
The M102 water main has been in operation for over 80 years and is a critical part of Melbourne's water supply network, supplying the areas of Footscray, Altona and Werribee.
Recent inspections of the existing water main have revealed that the pipeline is at the end of its operational life and needs to be upgraded to meet Melbourne Water's service standards. This will also secure a reliable water supply for the growing west.
To date, we have completed three separate projects to renew 13 kilometres of the 15 kilometre M102 pipeline. The West Footscray to Yarraville Water Main Renewal project will involve renewing the last two kilometres of this pipeline between Paramount Road, West Footscray and Williamstown Road, Yarraville.
Keeping you informed
We will keep local residents and businesses informed about the works through letters, newsletters, door knocks and web updates.
Your feedback
If you have any questions or want to learn more about this project, please get in touch.