Solar Farm to help power the Eastern Treatment Plant, Carrum Downs
Melbourne Water has released an Expression of Interest (EOI) as part of a plan to develop a new solar farm at the Eastern Treatment Plant (ETP) in Bangholme.
Construction works paused due to high rainfall
To prepare the site for the proposed farm, pending planning approval, we commenced works in February 2019, to fill a soil pit in the area immediately south of Thompson Road.
Due to recent heavy rainfall events, the ground conditions have become too wet and unsafe for works to continue. The remaining works are anticipated to commence again when the weather improves in Spring.  
The two main construction impacts include: significantly increased truck movement on Thompson Road; and increased dust onsite.
Dust suppression activities will continue for the duration of the works. This will involve water trucks wetting down the site compound and Rossiter Road.  
Map of truck movements
Trucks will be travelling down Thompson Road between the Patterson Lakes Recreation Reserve and Eastlink between the proposed Solar Farm Site and the Biosolids Fill Site.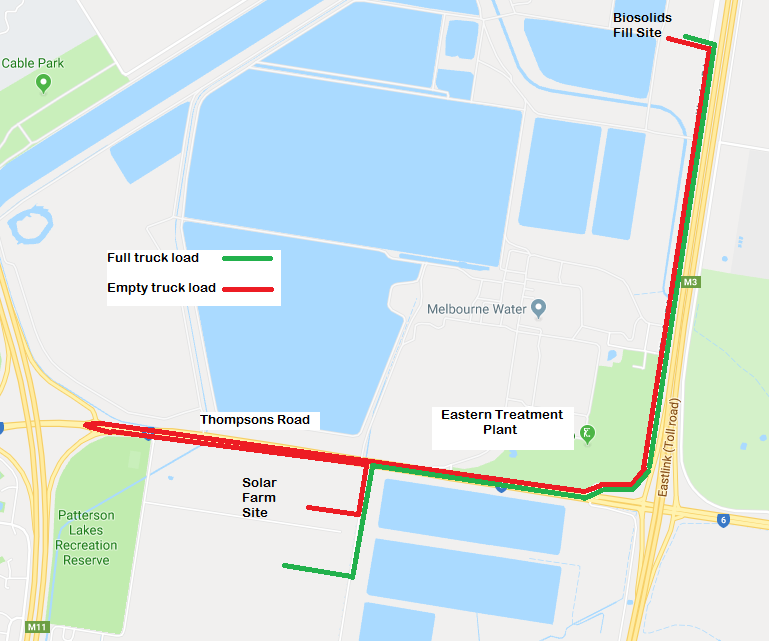 Why is this project important
Melbourne Water is committed to reducing its net carbon emissions to zero by 2030. The establishment of a new, onsite solar farm to help power ETP is a practical way for Melbourne Water to cut its greenhouse gas emissions, and tackle climate change.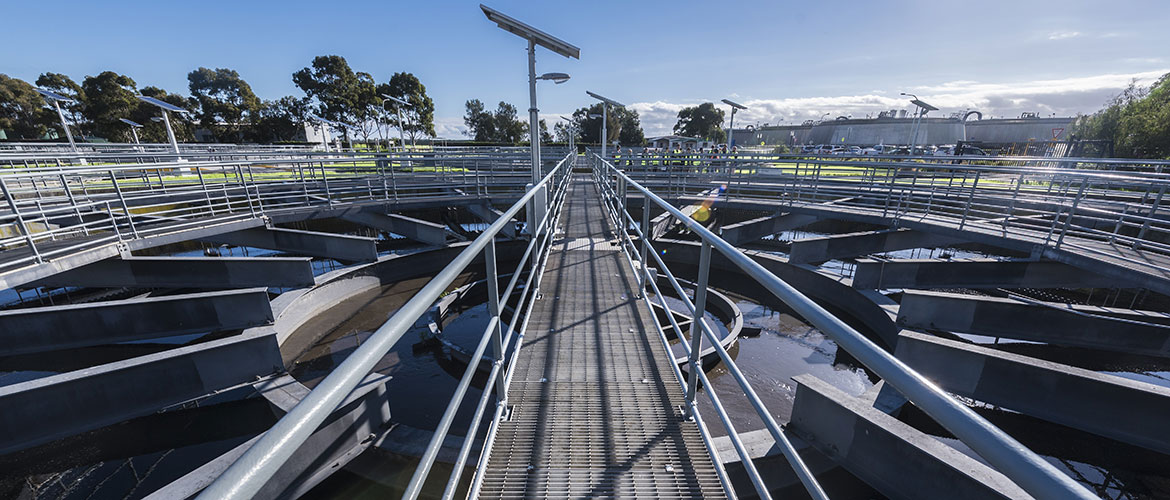 What's happening and when
Pending planning approval, the proposed solar farm is planned to be located close to Melbourne Water's ETP and generate renewable electricity to help meet the power needs of the treatment plant.     
The Expression of Interest document is also calling for proposals to help establish a second solar farm, pending planning approval, at the Winneke Water Treatment Plant near Christmas Hills. Both solar farm projects are still in the planning stage and the EOI process will assist with the development of designs. 
The Eastern Treatment Plant was opened in 1975 to serve Melbourne's growing population. The plant sits on 1,100 hectares and treats about 330 million litres of sewage a day – that's about 40% of Melbourne's total sewage.
The proposed solar farms are one initiative designed to help meet this ambitious goal and will play a role alongside other projects including hydro-power stations and the transition of Melbourne Water's car fleet to zero emissions vehicles.
Timeline
February - late 2019: Soil pit construction works
Mid 2019: Submission of Tenders
Late 2019: Contract awarded
Late 2019: Solar farm construction commencement
More information 
Melbourne Water will provide the community with an update regarding the outcomes of the EOI process including the details of any proposed development at ETP and Winneke when further information is available. For more information about Melbourne Water's other Emissions Reduction Target activities visit
 Towards new zero carbon emissions 
Contact us