Melbourne Water is upgrading a section of the sewer along Beach Road, Sandringham. The section of sewer was constructed in 1909 and a renewal program of works is now required to keep this vital asset functioning well in the future.
Why this project is important
These essential works will increase the service life of the sewer for decades to come providing long term benefits to the environment and community including a continued, reliable sewerage service.  
What's happening and when
The works are scheduled to commence mid-July and be completed by end of August 2019.
Two manholes require widening to ensure we can safely access the sewer to reline the tunnels and pipes below. These works will take place after morning peak hour and before afternoon peak hour Monday to Friday.
Following the manhole widening, three sections of the sewer pipe will be relined. This involves dropping a machine down an existing manhole to coat the inside of the sewer pipe with a plastic liner. Once complete, grout is used to fill any gaps. These works will be undertaken at night Sunday to Thursday. 
Night works need to take place when the sewage flows are at their lowest and there is less impact to traffic along Beach Road. Some noise will be generated from project vehicles and machinery at times throughout the night. Noise may be experienced from heavy machinery during the works, including the use of a cleaning truck (which pumps high pressure water into the sewer) and a 'sucker' truck (which sucks sewage out during works if flows need to be managed). We will make every effort to reduce noise and impact to the community.  
Impacts on local residents and visitors
While every effort will be made to minimise inconvenience and disruption, our works will have the following impacts:
Temporary traffic disruptions around manholes will mean changes to local parking and traffic conditions during working hours.
Traffic detours will be in place at various stages of the works.
All works will be packed up at the end of each day. No equipment will remain on site.
Noise will be generated from jet cleaning trucks and other machinery. Every effort will be made to minimise these noise impacts.
Dust and odour may also be noticed.
We do not anticipate any impacts to your water or sewerage services during the works.
Hours of work
Day work hours will be 9am to 3pm Monday to Friday.
Night work hours will be 7pm to 5am Sunday to Thursday.
Location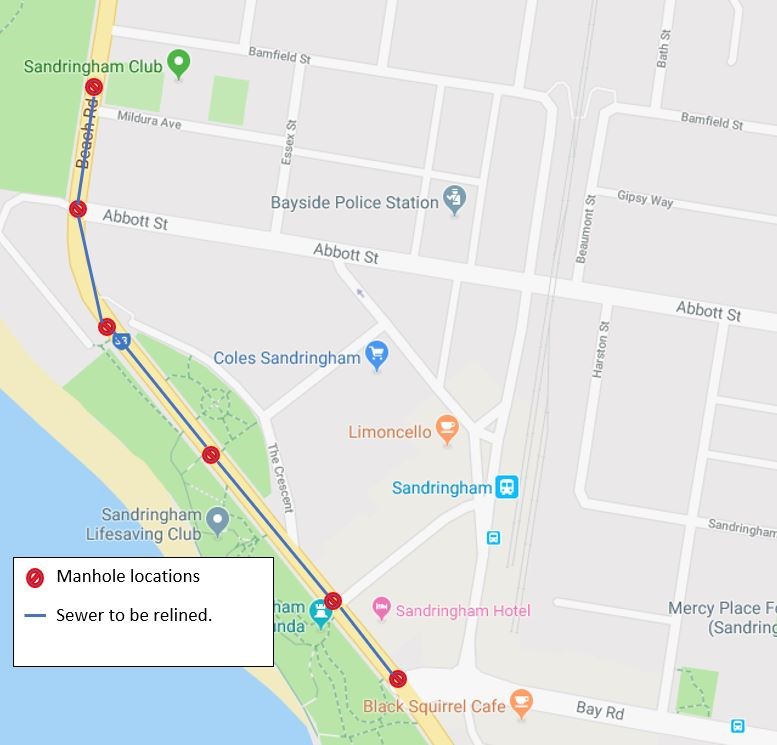 Contact us