Ryans Road retarding basin upgrade
Melbourne Water will be upgrading Ryans Road retarding basin in Diamond Creek to ensure it continues to reduce the risk of flooding to the community. 
Ryans Road retarding basin plays a crucial role in managing stormwater in the local area. Recent assessments have shown the embankment and outlet filters will need to be upgraded to ensure the continued integrity and stability of the retarding basin.
Timing of works
Upon investigation of this retarding basin within the road reserve, we originally expected works to begin in early 2018.
Further investigation works within the road reserve is required which will begin in the week of Monday 19 March 2018 weather permitting.
These investigation works are to identify the underground services in your local area.
Work will be undertaken from 7am to 6pm Monday to Friday and 7am to 1pm Saturday, if required.
What to expect during the investigation works
Aqua Metro Services is delivering these works on behalf of Melbourne Water.
Work will be undertaken primarily within the road reserve on the downstream side of the retarding basin. The upgrade involves:
grass cutting
vehicles and trucks accessing the road reserve to identify the location of the underground services
minor excavation works may be required, depending on the depth of the underground services
staff on site
Location and access
The Ryans Road retarding basin is located in the road reserve on the downstream side of the basin, off Ryans Road, and in between Juane Park Drive and Ryans Road.
We'll continue to work with local residents and other users of the basin to inform them of the works schedule and any associated impacts that may take place. 
We will keep you informed once we identify when the works are ready to proceed.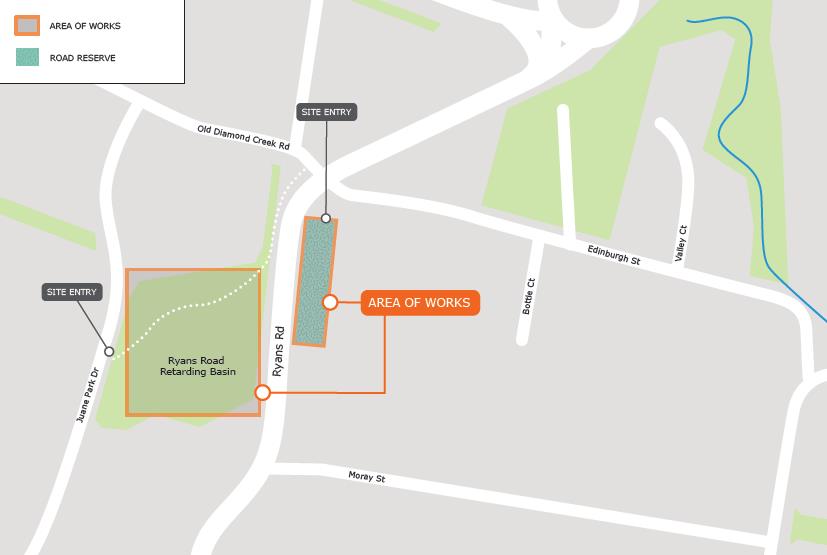 Further reading
Contact us
Melbourne Water is committed to providing regular updates on the project to keep the community informed. If you do have any questions or feedback, please get in touch: