Pascoe Vale Road sewer relining project
Melbourne Water is upgrading the Pascoe Vale Road sewer (along the existing sewer alignment) and manholes for 1.3km on Pascoe Vale Road, Pascoe Vale and Strathmore.
The Pascoe Vale Road Sewer was originally constructed between 1951 and 1959 and is at the end of its operational life. Relining the pipeline is now required to ensure the local community continues to receive a reliable sewerage service.
The project is expected to be completed by mid-2019.
Project timeline
We expect to begin works in mid-December 2018, and it will take approximately five months to complete, weather permitting.
Once the work has been completed, the manholes, shared path and roads will be reinstated. 
There will be bypass pumping required for the northern section of the alignment from cnr of Pascoe Vale Road and Main Street, and along Moone Ponds Creek to Bass Street Reserve.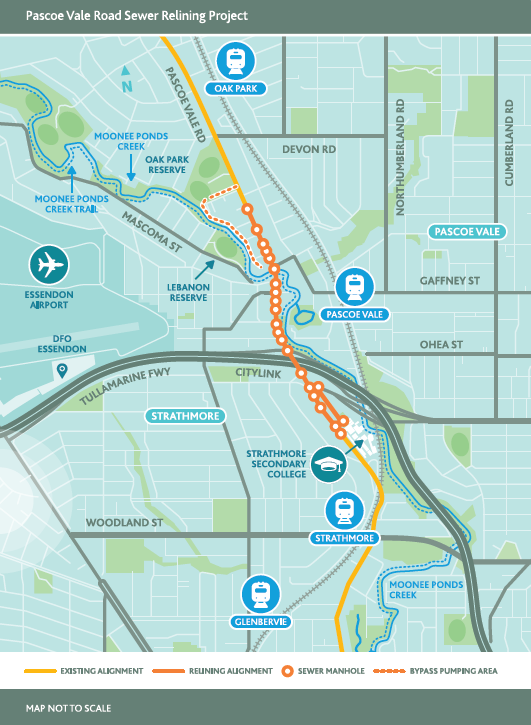 Stages of the sewer relining project
The staged approach follows a "spiral wound in place" methodology (see illustration below).
Stage 1 - Cleaning of pipes and modifying the existing manhole 
The first stage of the project involves cleaning the sewer pipes and carefully measuring the existing pipes. The top of the existing manholes will need to be widened to allow for sewer relining to take place.
Stage 2 -  Relining the sewer pipe 
Stage two will involve relining the sewer using the selected methodology. This methodology is identified upon completion of the investigation phase.
Stage 3 - Upgrading the manhole and reinstatement of the work area
The entries to the sewers will be upgraded with new ladders and new manhole lids. The area surrounding the manholes will be reinstated to existing conditions.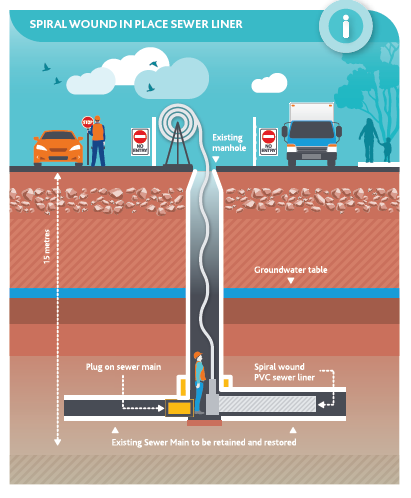 What will I notice?
Hours of work
All stages of the project will take place as night works, Sunday to Thursday from 9pm to 7am. Outside these hours quiet work may take place.
Night works need to take place when the sewage flows are at their lowest and there is less impact to traffic along Pascoe Vale Road.
Noise
Noise will be generated from moving vehicles, machinery and generators powering the equipment, during the hours of work. We will plan to reduce noise as much as possible for all night works.
Odour
Some odour is expected when carrying out the works. We will aim to minimise this as much as practicable.
Traffic, parking, cyclists and pedestrians
There will be changes to traffic conditions including lane closures, speed limit reductions and, where necessary, full road closures with detours while  we work on the Pascoe Vale Road.
Minor detours may be in place for pedestrians and cyclists. Please be careful around work areas and observe new signs. We will work with residents near the work areas to make sure access to private property is maintained at all times.
Respecting heritage and the environment
There is no vegetation removal expected. In some cases we may need to undertake some trimming or alterations where trees are located in close proximity to the existing manholes.
We will notify local residents and businesses about these activities prior to starting works.
Sewerage and water services
We do not anticipate any impacts to your water or sewerage services during the works. Localised bypass pumping systems may be set up around some manholes in the northern section of the alignment to ensure sewer services continue to operate.
Keeping you informed
Doorknocks and letters will be used to inform residents, businesses and schools directly next to the work areas. We will also host a community information session closer to the construction start time. Signs will be used around our work areas to inform pedestrians, cyclists and drivers of changes to road conditions.
More information will be available on the Melbourne Water website as it becomes available.
Your feedback
If you have any questions please contact Melbourne Water on: