Maroondah Aqueduct replacement
Melbourne Water is upgrading a section of the Maroondah Aqueduct between Gulf Road, Yarra Glen and Pauls Lane, Dixon Creek as it is nearing the end of its service life. The new pipeline will have a 150-year service life and replaces the existing aqueduct.
The upgrade works involve replacing a 5.7km section of the old aqueduct with a new 1,750mm diameter concrete lined steel pipe. Residents with water supply connection to the old aqueduct will be reconnected to the new pipeline. An access track and drainage works will be constructed along the alignment of the old aqueduct.
What's happening and when
Construction of the new 1750mm diameter pipeline is complete. Reconnection of residents to the new pipeline is almost complete. Abandonment of the aqueduct is in progress and installation of the access track and drainage works are due to be complete by December 2017.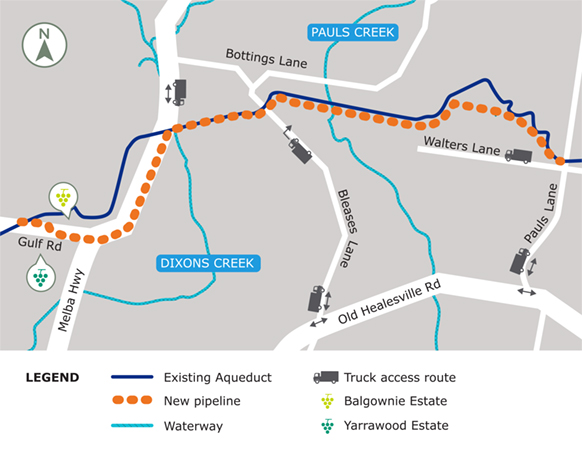 Impacts on local residents and visitors
We aim to minimise inconvenience where possible, however due to the size of the project residents and visitors are likely to see changes in the area including:
increased truck traffic including large pipes and heavy equipment deliveries along Bleases Lane (via Old Healesville Road), Pauls Lane and Walters Lane
work crews and vehicles travelling along the existing Melbourne Water land, construction corridors and road reserves
changed traffic conditions including reduced speed limits
dust management measures in place along the construction corridor, access roads and at the site compound
biosecurity management controls
access to private property only with landowner permission
Working hours
Work will take place Monday to Friday between 7am and 6pm and 7am and 3:30pm in accordance with EPA guidelines.
Notification will be provided if construction work is planned to take place outside these hours.