Maribyrnong River Main (MRM) Sewer Upgrade
Melbourne Water is upgrading the Maribyrnong River Main (MRM) sewer, which transports approximately 24 million litres of wastewater each day to the Western Treatment Plant. 
The MRM is one of the main sewers in Melbourne Water's 400 kilometre network. It's approximately 8.8 kilometres in length and generally follows the Maribyrnong River from near the end of North Road in Avondale Heights, to Epsom Road in Ascot Vale. 
Works are underway to upgrade 7.2 kilometres of the MRM sewer in Avondale Heights, Essendon West and Aberfeldie. This is an important initiative for the residents of these suburbs as it will ensure the sewer continues to provide the community with a secure and reliable sewerage service for many years to come. 
Your water and sewerage services will remain operational throughout the project works.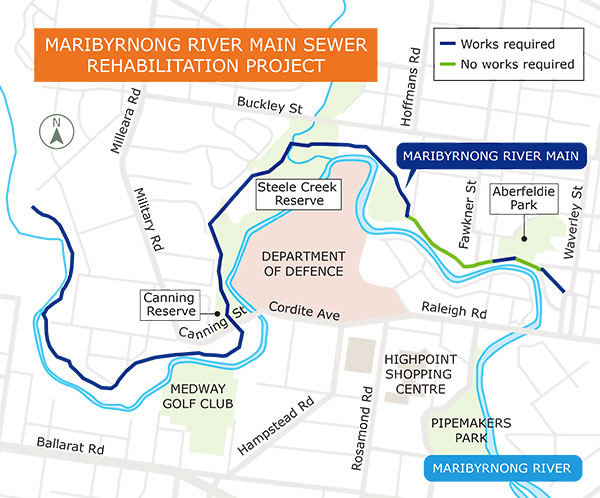 How the sewer is upgraded
Rather than digging up the sewer, we are upgrading by relining the pipe to extend its life by at least another 50 years. This involves:
installing a temporary above-ground bypass sewer pipeline to allow local sewerage services to keep operating at all times 
creating tracks to manholes to enable safe and easy access for maintenance crews 
cleaning and relining the sewer by inserting a new plastic sleeve into the existing pipe
filling the gap between the existing pipe and new sewer liner with cement (grouting)
assessing the 71 manholes and rehabilitating ageing and damaged manholes and decommissioning some that are no longer needed
reinstating areas affected by our works including re-grassing and re-planting
The majority of works will take place around existing manholes in the area, typically located in parkland, local streets, and in some private properties. Works will move progressively along the sewer alignment from manhole to manhole.  
Crews may work in a number of different areas at one time, but will not be at any given location for the entire duration of the project. 
Access tracks to manholes 
Some manholes are located in areas of steep and difficult terrain; these can be up to 40 metres deep (equivalent to the height of a 15 storey building). Access tracks for construction vehicles and machinery need to be created so we can safely and efficiently get to the manholes to complete the works. This requires significant earthworks in some areas due to the landscape. Some of these access tracks will remain in place after works are complete to enable ongoing maintenance activities to be performed safely into the future. 
Sewer bypass pipeline
You may notice lengths of black pipe along the ground in various areas and pumping equipment. These are our temporary above-ground sewer bypass pipes that are set up for each stage of the project. The bypass pipes allow local sewerage service to keep operating at all times. It involves connecting the pipe to upstream manholes and diverting the sewage flows to another manhole further downstream. This provides our crews safe access to the sewer to install the new lining, as well as maintaining sewerage services for the community throughout the works. 
In some places, the bypass pipeline will cross over the Maribyrnong River Trail - ramps will be set up over the pipe to maintain access for path users. Signs will identify where cyclists will need to dismount and walk their bikes over the ramps. Noise barriers will be put in place around the pumps and generators to reduce the sound, which is expected to be minimal. 
Proposed timing
Work started in August 2018 and is expected to be complete by mid-2020. The project will be undertaken in stages. 
Works will take place from 7.00am to 6.00pm Monday to Friday and 7.00am to 3.30pm on Saturdays. Residents will be advised in advance if works are necessary outside of these hours.
Stage 1
The first section of the sewer to be upgraded is from Canning Reserve near the sports oval (off Canning Street) in Avondale Heights, through to Steele Creek Reserve in Essendon West. 
Activities will include: 
August – October 2018 - setting up the site compound, ground investigations for the access tracks, and installing the sewer bypass pipeline from Canning Reserve through to Steele Creek Reserve. You may notice these black pipes on the ground next to the Maribyrnong River Trail. 
October – January 2018 -  upgrading the sewer including accessing manholes, cleaning and relining. Crews will be working in a number of different areas at once and will not be at any given location for the entire stage of the works, or for the duration of the project. 
We estimate that this first section of works will be completed by January2019 (subject to weather conditions).
We will provide more information, including exact timing of planned activities in advance of works happening in your area. Melbourne Water has appointed CPB and Black & Veatch Joint Venture (CPB-BV JV) as our construction partner to deliver the project on our behalf.
What to expect during construction
Residents, businesses and visitors will notice:
site offices, compounds and storage areas at Canning Reserve, Thompson Street Reserve and parkland reserve areas near Warrick Court and Barbara Crescent - these will remain in place until the project is complete in 2020
noise and vibration from trucks and other vehicles, machinery, reversing beepers and generators to power pumps and other equipment. Noise barriers will be put around the pumps and generators to reduce the sound.
odour when manholes are opened and the sewer is being cleaned 
trucks and other construction vehicle movements in the area
minimal traffic impacts in the local area – some local diversion in place while we access man holes on local streets, with traffic controllers on site to help the community move around the area safely. 
reduced access to the Maribyrnong River Trail in some locations, with temporary diversions in place for cyclists and pedestrians around construction areas.
We do not anticipate any impacts or interruptions to your water or sewerage services during the works. 
We will keep the community informed as works progress, using a range of notifications including letter box drops and door knocks if disruptions are expected.
Melbourne Water thanks the community for your patience and understanding while we undertake these important works. 
Respecting local heritage and the environment
We are working closely with Moonee Valley City Council, Parks Victoria, Wurundjeri Land Council and local community groups to manage the works and to ensure the significant cultural heritage and ecological values of the local area are protected. 
Project-specific environmental management plans will be in place throughout the works to protect native plants and animals. A cultural heritage management plan for the project has also been approved by the Wurundjeri Land Council.
The project has been carefully designed to avoid as many trees and shrubs where possible; however, unfortunately not all vegetation can be avoided. In some areas, we will need to remove small and medium sized trees, shrubs and grasses to undertake the works. We have been working closely with Moonee Valley City Council and Parks Victoria to minimise the amount of vegetation that will need to be removed as much as possible. 
After the works have been completed, we will replace all vegetation that was removed by re-planting in the local area, and rehabilitate disturbed areas in accordance with revegetation and reinstatement plans approved by Moonee Valley City Council and Parks Victoria.
Other areas affected by our works will be restored to their original level of amenity or similar condition. Reinstatement will be inspected by Moonee Valley City Council to ensure community safety and well-being.  
Why this project is important
Built in stages between 1963 and 1977, this sewer has deteriorated significantly in recent years and some sections are coming to the end of their working life. Some parts of the sewer have already deteriorated so rapidly that immediate repairs have been required to ensure it continues to function safely and effectively. Urgent repairs were completed on small sections around Avondale Heights between November 2017 and April 2018.
Relining the sewer will extend the life of the MRM sewer by at least another 50 years.
For more  information see the Melbourne Water sewer relining program page. 
Related 
Media release - Maribyrnong Sewer upgrade in the pipeline
Contact us
For more information, please contact the MRM Sewer Upgrade Project Team: 
Community bulletins