Dredging and sediment separation system trial
In September 2016, Melbourne Water began a three-month trial of a custom-designed, fully integrated sediment dredging, separation and dewatering system.
The trial of this Dredging and Sediment Separation System (DSSS) is an innovative approach to minimising the impact of our operational activities at a wetland, the surrounding parklands and nearby residents.
The results of the trial will enable us to assess the efficiency of the proposed new approach and to managing the cost of removing and disposing sediment.
There are ten trial sites, including:
Dandenong Valley wetland, Scoresby
Golf Links Road wetland, Narre Warren
Caroline Springs wetland complex, Caroline Springs
Watervale wetlands complex, Taylors Hill
Evans Road retarding basin and wetland, Cranbourne West
Karkarook sediment pond, Heatherton
Troups Creek South, Hallam
Fairbairn Road wetland, Laverton North
Botanica Springs wetland complex, Brookfield
Marriott Waters sediment pond, Lynbrook
Each of these wetlands was constructed more than five years ago and needs to be desilted to ensure it continues to treat and remove pollutants.
We work with local government to construct wetlands that provide large scale drainage services, mitigate floods and improve the quality of our waterways. These wetlands play an integral role in the health of our waterways and Port Philip Bay.
This DSSS trial is funded through the Waterways and Drainage Charge, and is being implemented in collaboration with Environment Protection Authority Victoria.
This trial is part of our ongoing commitment to ensure that we sustainably protect and manage community infrastructure, assets and amenity. 
What's involved
The trial involves using a dredge to remove the sludge from a wetland sediment pond. This dredging is expected to take approximately three or four days to complete at each site.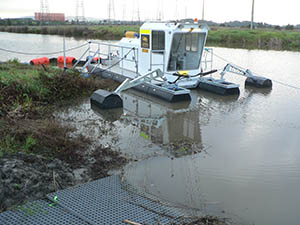 The sludge will be pumped into a trailer-mounted tank that has a rotating screen. This screen separates the litter, sand, silt and clay. The coarse gravels and sand are separated for re-use or clean-fill disposal.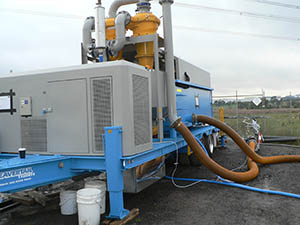 Heavy, wet sand is transported from site, using covered trucks, and re-used. Fine sand particles and heavy metals are pumped into geo-textile bags and left onsite until dry. Depending on the weather, this can take up to ten or twelve weeks.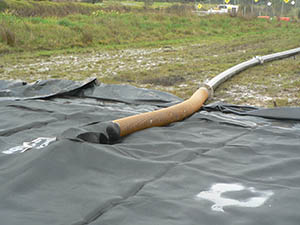 Once the sludge in the geo-textile bags has dried, it is tested and removed from site. Then the parkland around the wetland site is rehabilitated.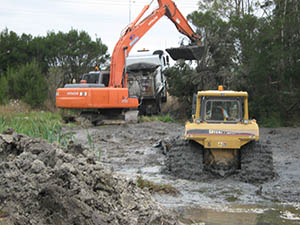 Previously, we needed to drain the wetland and could only work in summer.
Your feedback
Contact us with any comments or queries: