Canterbury Road Retarding Basin upgrade
Melbourne Water has upgraded the Canterbury Road Retarding Basin at Bayswater North to ensure it can continue reducing flood risk to the community. Construction works have been completed and we are currently replanting vegetation and finalising some remedial works.
Why this upgrade is important
Melbourne Water has over 200 retarding basins that we regularly assess for risks, conduct maintenance on, and upgrade as necessary. The Australian National Committee on Large Dams (ANCOLD) guidelines represents the best Australian and international engineering practice in the safe design, management and operation of dams. We use these guidelines to manage our retarding basins.
The Canterbury Road retarding basin was recently assessed against the ANCOLD guidelines, which found that upgrade works were needed to ensure the retarding basin continues to reduce flood risk and operate safely for the community. 
For more information watch our videos:
Scope of works
This project involved:
removal of trees, root ball excavation and backfill of embankment
filter trench excavation and backfill
filter drain outlet installation
filter diaphragm installation around existing outlet conduit
embankment hardening (Geoweb installation)
embankment crest capping
embankment level raised
realignment of the path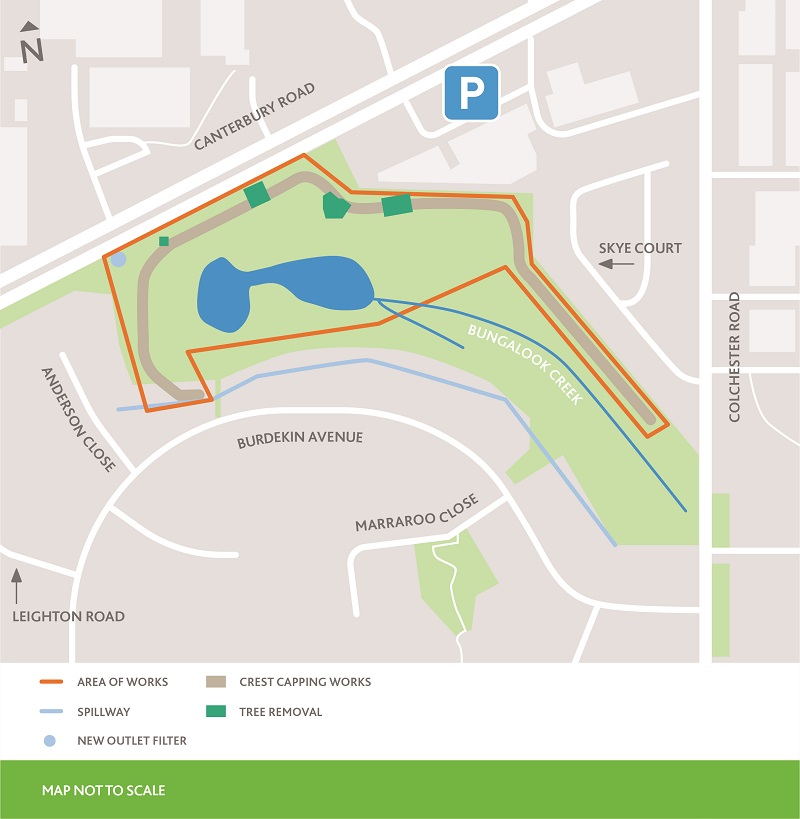 What happens next
The path will be removed and final remedial works will occur.
What to expect during construction 
We will do everything possible to minimise disruption during construction, however it is likely that nearby residents will notice:
large trucks and machinery working around the retarding basin
worker amenities set up within the construction area
some noise, dust and vibration from construction works
removal of trees and vegetation from the retarding basin embankment – trees and vegetation in other parts of the reserve will be retained
construction traffic and equipment will enter and exit the site via Canterbury Road.
Watch our video "Why do we need to remove trees from retarding basins?"
Timing of works
Works will commence in late October 2018 and take approximately seven months to complete (weather permitting). Construction hours will be Monday to Friday 7am to 6pm and Saturdays from 7am to 1pm in accordance with the EPA regulations.
Handling wildlife
The project team have hired a qualified wildlife handler, with 25 years' experience in zoology and ecology, as a precaution and to put community concerns at ease.
They have a permit under the Wildlife Act 1975 and we are operating under this Act. The wildlife handler will remain onsite for the duration of the tree removal works (if required).
Wildlife Management process:
A Flora and Fauna assessment was completed in the design phase.
A wildlife pre clearance check will be completed prior to construction, including checking the site for fauna and marking trees likely to have habitat. If fauna is found the wildlife handler will be on site for the duration of the tree removal works.
The wildlife handler will complete a walk through on the day of the tree removal and again check all hollows to ensure no wildlife had moved in, including checking higher location via a boom (cherry picker).
If fauna is found in a tree, the wildlife handler will attempt to catch it (without chasing or causing it distress). If it can't be caught the wildlife handler will encourage the fauna to move. If this isn't possible the contractors will move to the next tree and return to try again.
To check for micro bats, the wildlife handlers will lift the bark and check in hollows and cracks. If any micro bats are found they will be bagged, put in a dark, quiet, cool area and released at dusk, preferably on a mirror image tree.
Nest boxes will be installed on site as they create more habitat.
Nests in trees that are being removed will be relocated. If they are intact, they will be put next to the nest box and if not, the remnants are strategically placed in the nest boxes in trees to encourage the fauna into other trees.
Any hollow trees will be retained for fauna habitat. 
A fauna ladder is being considered for connectivity for arboreal species.
Flowering eucalyptus tree branches are being retained as a food source for birds and some mammals (and being donated to wildlife shelters).
Seeds are being collected from Eucalypt and Melaleuca trees and being extracted, cleaned and processed to use for propagation for the local area. They will be donated to local indigenous nurseries.
Watch our video "Wildlife Management on Retarding Basin upgrade projects".
Revegetation
An extensive revegetation process will be implemented once the works are completed. Trees and shrubs will be planted with the Retarding Basin (away from the embankment).
Contact us