Banyan Reserve retarding basin upgrade
From late January 2018, John Holland-KBR Joint Venture (JH-KBR JV) will deliver upgrade works to the Banyan Reserve retarding basin at Carrum Downs, on behalf of Melbourne Water.
The upgrade works will ensure the retarding basin continues to reduce the risk of flooding to the community.
Why we are doing these works
Melbourne Water has over 200 retarding basins that we regularly assess for risks, conduct maintenance on, and upgrade as necessary. The Australian National Committee on Large Dams (ANCOLD) guidelines represents the best Australian and international engineering practice in the safe design, management and operation of dams. We use these guidelines to manage our retarding basins.
The Banyan Reserve retarding basin has recently been assessed against the ANCOLD guidelines. This assessment has shown that upgrade works are necessary to ensure the retarding basin continues to reduce flood risk and operate safely for the community.
What's happening and when
John Holland-KBR Joint Venture will be undertaking these works on behalf of Melbourne Water.
Works will include:
removal of trees, root ball excavation and backfill of embankment
embankment crest raising
fiilter trench excavation and backfill
filter drain outlet installation
filter diaphragm installation around existing outlet conduit
embankment hardening
embankment crest capping
Handling wildlife
The project team hired an experienced wildlife handler/ecologist/zoologist, who has 25 years' experience, as a precaution and to put community concerns at ease during the recent tree removal works.
They have a permit under the Wildlife Act 1975 and we are operating under this Act.
Pre-construction activities
The following activities were completed prior to construction:
a flora and fauna assessment
a wildlife pre clearance check which found no fauna in the trees to be removed
Location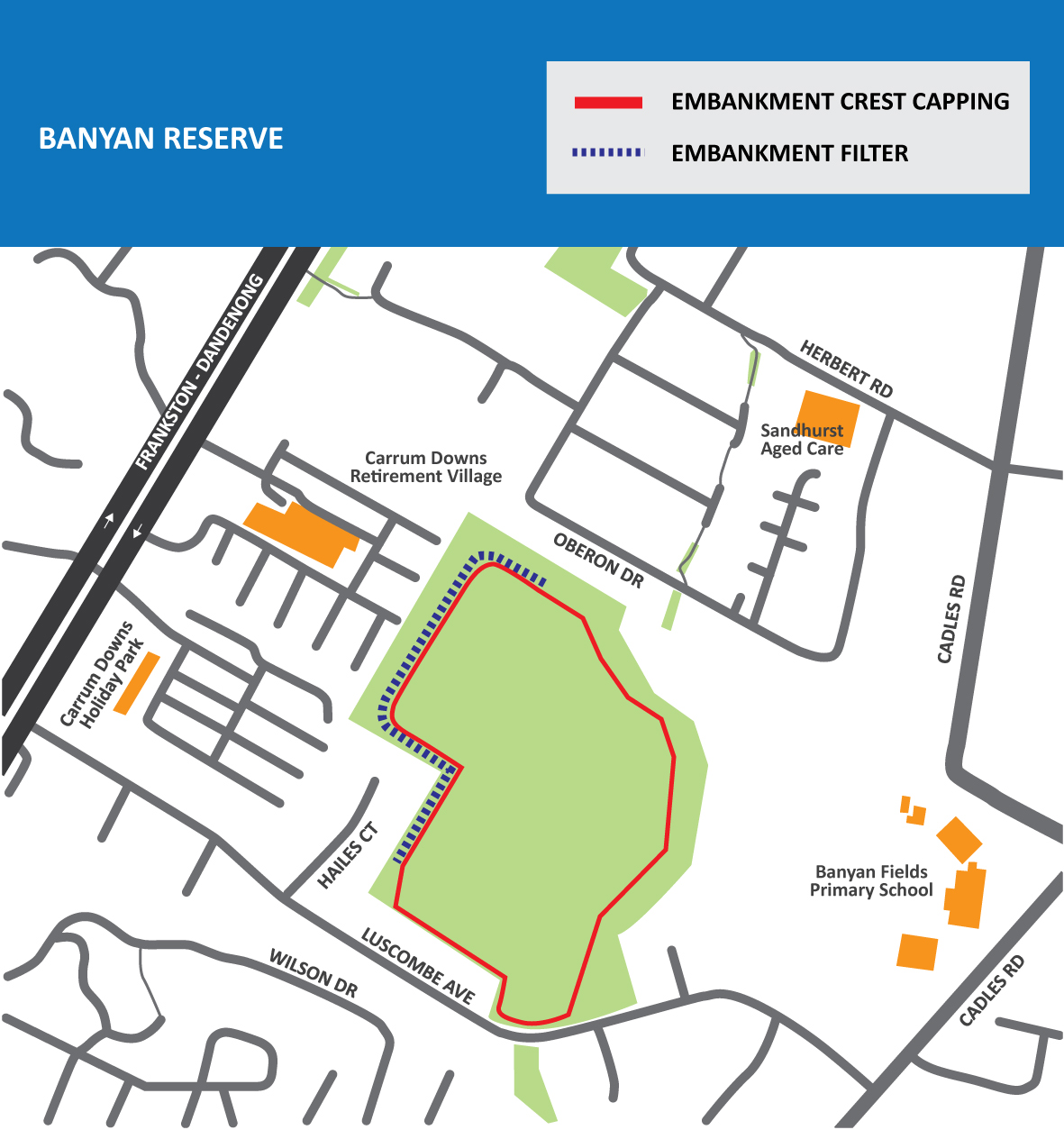 Timing of works
Works will start in late January 2018 and take approximately five months to complete (weather permitting).
Construction hours will be:
Monday to Friday 7am - 6pm
Saturdays 7am - 1pm
Revegetation works will occur in August and September 2018.
What to expect during construction
We will do everything possible to minimise disruption during construction, however it is likely that nearby residents will notice:
large trucks and machinery working around the retarding basin
worker amenities set up within the construction area
some noise, dust and vibration from construction works
removal of trees and vegetation from the retarding basin embankment – trees and vegetation in other parts of the reserve will be retained
There will be no impact to the sporting fields during construction.
Traffic and equipment will enter and exit the site via Lushcombe Avenue.
More information
Have questions? Visit our Community Pop Up sessions.
The project team will be at the Banyan Reserve Retarding Basin to answer your questions:
Thursday 18 January 2pm - 3pm
Saturday 20 January 10.30am - 11.30am
Monday 22 January 1pm - 2pm
Contact us: