United Nations Global Compact
Melbourne Water has signed up to the United Nations Global Compact (UNGC), the world's largest corporate sustainability initiative.

Linked to this, we also signed a public CEO Statement of Support for the UN Sustainable Development Goals along with over thirty other leaders in the Australian business community.
By signing, we are committing to:
making the UNGC and the SDGs part of our strategy, culture and day-to-day operations
communicating with stakeholders on an annual basis our progress in implementing the principles and our efforts to support societal priorities.
Melbourne Water is in a unique position to contribute to the UNGC and SDGs as water is a vital part of sustainable communities. By supporting the goals, we are building on a solid foundation provided by our vision of 'Enhancing Life and Liveability' and also our strong history in sustainability.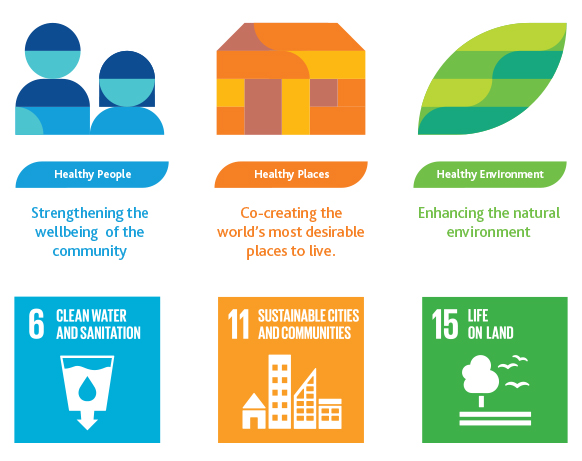 Sustainable Development Goals (SDGs)
The SDGs came into effect on 1 January 2016 and have been adopted by 193 countries. They are a common set of goals to put the world on a sustainable path to 2030.
Melbourne Water aspires to make a meaningful and material contribution to the SDGs, in order to advance the goals at all scales. We have been listening to our stakeholders, customers, and staff to understand what is important and where our opportunities for impact are.
Melbourne Water aims to enhance our contribution across all the SDGs through all of our activities. In particular the three pillars of our strategic direction align closely to SDGs 6, 11 and 15, goals for which we aim to be leaders for.