Hero Image
Students collect tonnes of rubbish over week-long river clean-up
Students from Korowa Anglican Girls' School have spent the week alongside the Yarra Riverkeeper Association and Melbourne Water on a clean-up blitz along the Yarra and Maribyrnong Rivers. 
The year 9 Glen Iris-based students have trawled the rivers for rubbish and have found it everywhere. Newly minted Yarra Riverkeeper Youth Ambassador Megan Tran said she was shocked at the amount of plastic in both waterways.
"There was a lot of rubbish floating in both the Yarra and Maribyrnong. We found so many sushi soy fish containers, straws and plastic drink bottles," Megan said.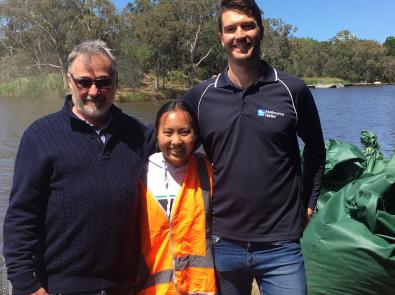 Yarra Riverkeeper Andrew Kelly said the last five Blitzes have seen 2520 plastic bottles collected at the community events alone.
Thousands more would have been vacuumed by Mr Snuffleupagus, the boat mounted vacuum system, in the lead up to each community event. 
"Most bottled water is packaged in PET (polyethylene terephthalate). These plastic bottles are derived from crude oil. Even though most are recyclable, if they end up in landfill they can take many years to break down," Mr Kelly said.
"If they're in our rivers and end up in small pieces, animals can mistake them for food and choke or be poisoned."
More than two tonnes of rubbish was collected and sorted by the students ahead of a community Maribyrnong River Blitz being held on Sunday November 24.
Melbourne Water's Team Leader, Waterways and Land Jesse Barrett said the Blitz event was a terrific way for the community to come together and make a real difference to their local environment.
"Litter prevention is everyone's responsibility. Melbourne Water asks everyone to bin their litter – rubbish dropped on our streets ends up in our rivers through stormwater drains and then feeds into the Bay," Mr Barrett said.
"The Maribyrnong Blitz is a great opportunity to take practical action to make a difference."
Some key stats from the Blitz's held over the last 12 months include:
approximately 30 tonnes of waste vacuumed from the Yarra;
more than 2500 plastic bottles collected;
over 500 volunteers involved, who collected an additional 1300kg of  rubbish;
 
If you want to take part in the November 24 Maribyrnong River Blitz, register here. Participants are encouraged to bring their own paddle crafts or boats.