Hero Image

Our Christmas gift to the Melbourne Zoo
If you visit the Melbourne Zoo up in the lead-up to Christmas, you'll see a big tree feature prominently in the grounds that's been made entirely from willows supplied by Melbourne Water.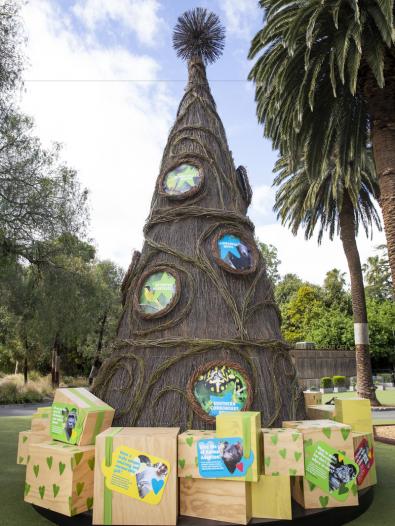 While the tree may look nice, willow is actually one of Australia's most invasive weed species.
Willows are not native to Australia, but thrive in the Australian environment. They have an impact on our native plants and animals and the form of our rivers and creeks.
Willows can be found along many Australian waterways. Willows were once planted to protect waterways.
But it is now widely acknowledged that these introduced trees damage the environment and cause problems for our rivers and creeks.
Melbourne Water works diligently to control weeds and promote native vegetation that keeps waterways healthy for our wildlife.
This tree is a BIG part of Melbourne's Zoo's Christmas festivities. Over summer, activities are all about celebrating the Zoo as the coolest place to fight wildlife extinction.
There will also be photo and sculpture exhibitions exploring Australia's amazing marine environments with a 'Planet or Plastic?' conservation theme.
Head along to the zoo and check out the tree – as well as all the other wonderful activities and animals they have inside! Click here to buy your tickets!