Hero Image

Community Park preserves history of Yan Yean reservoir
A unique, new community park has been built in Melbourne's northern suburbs to recognise the area's historical significance to Victoria's oldest surviving water supply system.
Pipe Track Park, located along McDonalds Road in South Morang, has been officially opened today by dignitaries from Melbourne Water, the City of Whittlesea and developers Canopi Projects.
The park celebrates the history of the Yan Yean water supply system – first turned on to supply water for Melbourne in 1857 – and Pipehead Reservoir, a bluestone reservoir that lies buried below.
The park also pays tribute to the caretakers and their families who managed Pipehead Reservoir on behalf of what is now known as Melbourne Water.
Pipehead Reservoir was the first expansion of the Yan Yean system built in 1875 and interpretive signage installed around the park recognises the location's layered history.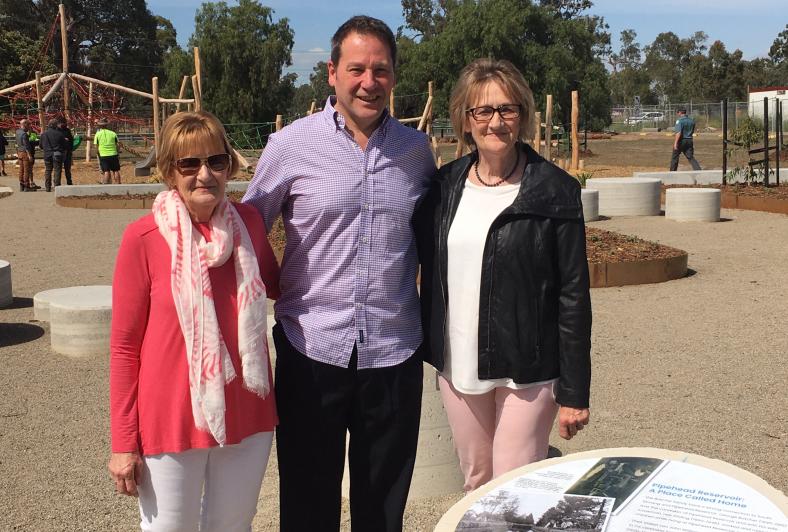 Melbourne Water has ensured the story of the Wurundjeri people and their relationship to the land and waterways is told while also celebrating the history of the Yan Yean System and Pipehead Reservoir.
Melbourne Water's Principal – Cultural Heritage - Paul Balassone is thrilled that future generations of the community will have the opportunity to learn about the park's historical significance.
"The Yan Yean story is very much part of Melbourne's story.  Yan Yean is much more than a water system. It's been a place of work for generations and, for some, a place they called home," Mr Balassone said.
"Pipe Track Park pays homage to this past, bringing to life the stories of the past in the present and for the future through interpretive signage.
"This project supports two of Melbourne Water's key liveability outcomes - a sense of place and a sense of community.
"We're thrilled to be able to collaborate with the City of Whittlesea and Canopi Homes to bring our past to life."