Hero Image

Water for life – securing Greater Melbourne's water future
Across Greater Melbourne, we're facing some big water challenges.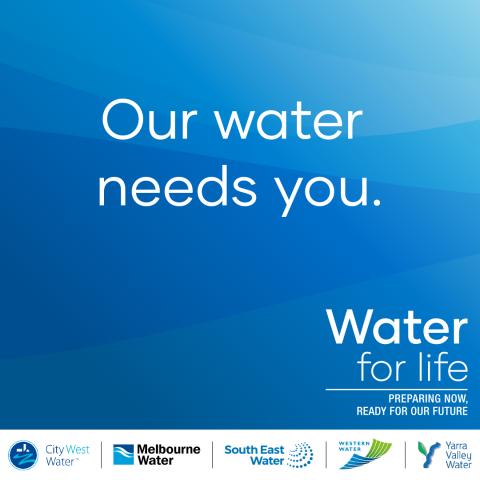 Our population is growing and we're using more water, our climate is drying and there's less water in our rivers. Add to that an expanding grid of where we live and a thriving economy, and we're seeing increasing pressure put on our most valuable resource – water.
Under some climate and demand scenarios we'll need more water than is available in the next 10 years. We will need new solutions to ensure Greater Melbourne has enough water into the future.
That's why Melbourne Water, City West Water, South East Water, Western Water and Yarra Valley Water have come together to produce a joint strategy 'Water for Life'.
The Water for Life strategy will impart real change during the next five years, and set a strong foundation for water corporations to confidently meet our diverse water needs for the next 50 years.
We also need to place greater emphasis on acknowledging and understanding the cultural, economic and environmental values of water use, including those of Traditional Owners.
From previous consultation, we've heard you care most about water for everyday living, like drinking and personal hygiene, as well as water for recreation and the environment.
As we begin work on the strategy, we want to hear about your vision for the future, including input on ways we can secure more water, be smarter with the water we have available, and what it is you value most about water.
Now is your opportunity to help shape the strategy. Visit the website to learn more or share your feedback
Online community workshops are also being held where we'll have deeper discussions about local ideas and challenges.
Click here to register for any of those events.